Welcome to Woman Crush Wednesday!
This week, join 97.9 The Hill's Ali Evans for a conversation with Dr. Louise Metz, Founder of Mosaic Comprehensive Care. Louise was the first woman featured on Woman Crush Wednesday, as Mosaic is the segment's sponsor! She's back this week to discuss self-care during the complicated time of the COVID-19.
While our physical health remains top-of-mind as we continue to distance ourselves physically and socially, we can't neglect our mental health along the way. Some of us may even find our mental health is more fragile because of health concerns. You are not alone!
One of the pillars of Mosaic's approach to health care is treating patients as whole people, who have different needs to stay healthy.
"So many people are under so much stress, with everything going on," says Metz. "They're having to do so much and it really is important that we bring it back to that idea that we are whole people. We all have certain needs."
We're taking precautions to make sure our physical health is protected – face masks, sheltering in place, diligent hand washing, etc., but what are we doing to protect our mental health?
Ali and Dr. Metz also discuss a current trend on social media where people are expressing concern over gaining weight during quarantine. Making sure we're eating healthy and getting safe movement & exercise are both very important, but we must remember that certain language can be harmful those who struggle with weight and eating disorders. Dr. Metz reminds us to keep it in perspective.
"It really shows how pervasive weight stigma and fatphobia are in our society," she says, "that in the midst of this pandemic there's this focus on people worrying about gaining weight."
Some of us might feel like we don't have time for reflection or meditation. However, as Ali reminds us, "You can't take care of the people around you without taking care of yourself." The next time you're diligently washing your hands for at least 20 seconds, Ali challenges you to say three nice things about yourself into the mirror. You deserve it!
You can listen to Ali and Dr. Metz'  full conversation below and check back next Wednesday for another introduction to some of the most amazing women in our community!
---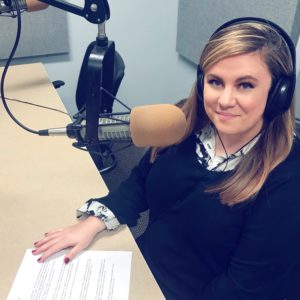 Join 97.9 The Hill's Ali Evans every Wednesday for another edition of "Woman Crush Wednesday," a three-minute weekly recurring segment made possible by Mosaic Comprehensive Care that highlights motivated women and their impact both in our community and beyond. If you'd like to nominate someone to be featured on WCW, email ali@wchl.com