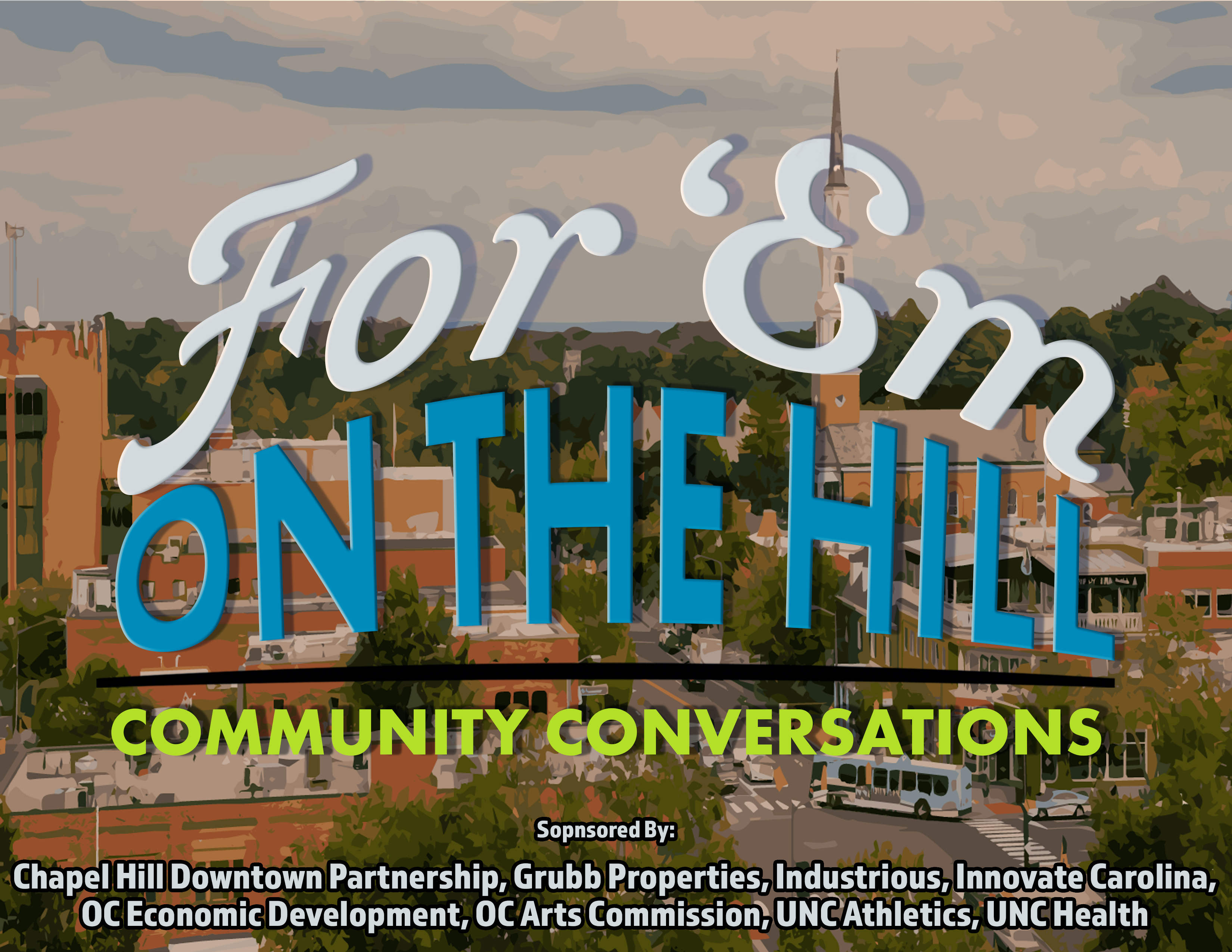 2022 For'Em On The Hill
Community Conversations with the For'Em On The Hill aired live on 97.9 The Hill December 5-9. Catch re-airs Saturday and Sunday mornings on 97.9 The Hill, from 7-9 am through January 1st. (except Sunday December 25th.) Or listen to all forum panels online below. 
 Sponsored by Chapel Hill Downtown Partnership, Grubb Properties, Industrious, Innovate Carolina, Orange County Arts Commission, Orange County Economic Development, UNC Athletics and UNC Health, this year's programming promises to continue the tradition of timely and informative conversations centered on the issues that impact our community.
The "For 'Em (Forum) On The Hill" is a chance to hear constructive discourse from lawmakers, educators, health professionals and local leaders as look to the year ahead. Live from the studios of 97.9 The Hill, the For 'Em On The Hill covers 10 topics over 10 hours – with conversations ranging from health and wellbeing to tourism, climate and sustainability, education, athletics, and more.
 The list of topics, and participants, are as follows:
TUESDAY, DEC. 6
Chatham County, 4-5 p.m.
Randy Voller (Publisher, Chatham County Line)
Karen Howard (Board Chair, Board of Chatham County Commissioners)
Vanessa Jenkins (MIRM, Executive Vice President, Preston Development Company)
K-12 Education, 5-6 p.m.
Tim Gibson (Executive Director of Elementary Schools, Chapel Hill-Carrboro City Schools)
Kevin Smith (Chief Public Information Officer, Orange County Schools)
Amy King (Teacher, Chatham Central High School)
2022 For'Em On The Hill Sponsors
More Local Stories on 97.9 The Hill and Chapelboro