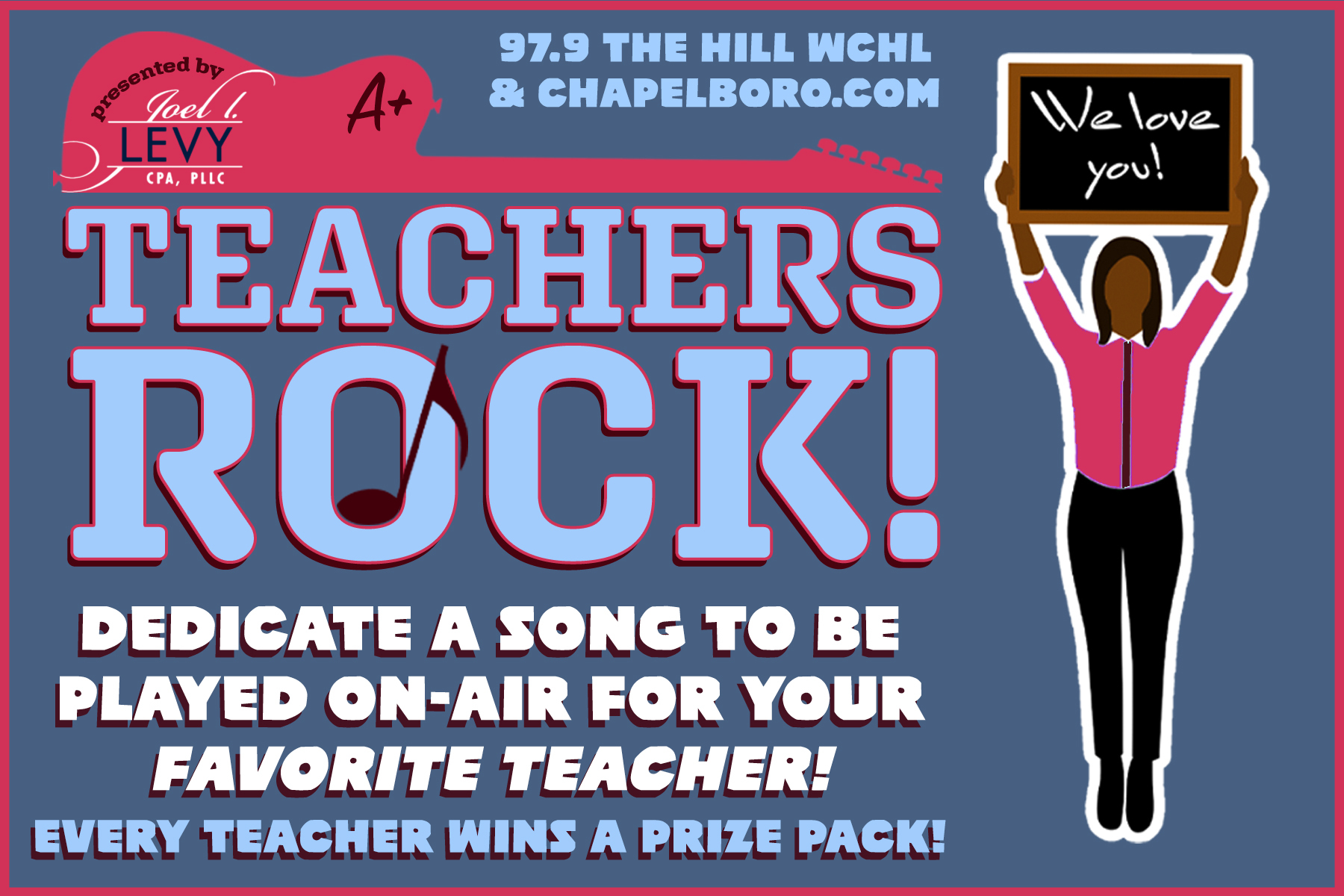 Dedicate a song and message to a teacher you know that rocks!
Our teachers deserve some special recognition for all the ways in which they have helped students and parents get through this past school year.  Do you know an extra special educator that you'd like to reward with an extra special shout-out?
Teachers Rock, presented by Joel Levy, CPA, is an opportunity for parents and kids to dedicate a song to a local K-12 teacher or athletic coach who deserves a big thank you.
Dedications and songs will air starting Tuesday, May 17th through Friday, May 20th, and every teacher who gets a dedication will receive a prize pack including delicious coffee from Carrboro Coffee Roasters, amazing handmade toffee from Chapel Hill Toffee, a coffee mug, and a wireless cell phone charger from 97.9 The Hill and Chapelboro.com!
Enter your dedication here!
Please fill out this form to nominate a local teacher.
The entry period for Teachers Rock has ended.
Joel Levy is originally from Brooklyn, NY and grew up in Spring Valley, just outside New York City. He enjoys working with both individuals and business owners, and get great satisfaction in assisting them with their financial, tax and planning concerns.
Joel began his career working for two large Manhattan firms before moving to Florida in pursuit of a better quality of life for his family. Joel started a CPA practice in North Miami Beach, moved the practice to nearby Pembroke Pines and finally to Fort Lauderdale, all located in Broward County, Florida.  In 1994, Joel returned to private practice in Boca Raton, Florida until 2007 when he became a "halfback," moving to Chapel Hill, North Carolina and establishing Joel I. Levy, CPA, PLLC.
Anyone who really knows Joel knows his favorite hobbies are golf and music. But, what he is most proud of are his two children and four grandchildren. Joel's "words to live by" are "Treat people the way I want to be treated, with due respect, regardless of stature."