The is the 52nd entry of Right as Rain.
I've spent every week for a whole year talking about a different way I was trying to "live my best life." That saying has become overused lately in pop culture references and memes.
I first heard it from Chance the Rapper (one of my favorite hip hop artists) on Cardi B's song "Best Life." But now it's a hugely popular hashtag on Instagram (with over 1 million posts) and HuffPost even has an entire section called "Live Your Best Life."
One quick click on the Instagram link above will show you that it's mostly just pictures of people's feet at the beach that they post while we're all at work.
To me, however, it ain't about vacation. It's about the work.
"Living my best life," as far as I define it, means constantly improving myself on the quest to be happy and healthy. A few years ago, I was in "the pit" as I call it.  
I was depressed, directionless, and building up a pile of debt.
The pit is almost always one that we have dug ourselves, and I was standing at the bottom of it looking up at the sky and a wall that seemed too high to climb.  
I had no idea how to get out.
The journey to the top (which basically just left me at ground level, haha) was a long one, full of a million mistakes and lessons learned.
I studied (and wrote about) the fear of failure, fighting against impostor syndrome, how to live in a state of gratitude, stress, anger, envy, and doubt.
I meditated, did float tank therapy, tried out different forms of fitness and started regularly fasting.
I made strategic plans, learned how to manage and set goals (and when to quit them), focused on how to stay disciplined, and how to establish good habits.
The work was messy. It was tough. At times I asked myself why I was doing all this stupid shit.
Just as I was ready to quit, the tide started to shift. I noticed progress. It was, and still is sometimes, a few steps forward followed by a few steps back. But I noticed on the larger scale (which is what we should all focus on), I was trending in the right direction.
I was getting closer to my goals.
Once I crossed the tipping point, things actually became easier. Saving money and paying off debt allowed me to save more money. Getting healthier and losing weight allowed me to get stronger. Being disciplined and doing the work first made me more motivated to work hard.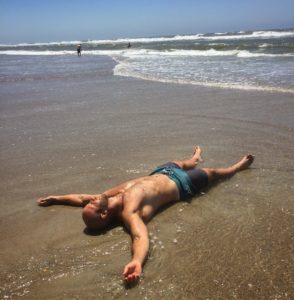 This is the snowball effect — it doesn't mean things are easier, but they are just easier than you'd ever expect them to be when you're still stuck in The Pit.
I saw this great chart in James Clear's book Atomic Habits that shows how if we focus on getting 1% better, our progress improves drastically in the long term — but it's not the linear path we envision.
Now, I can honestly say that I am living my best life.  2018 was amazing for me.
But I want more.  
Actually, I owe more. I owe more to the people of the world – those that helped me get better and those that could use my help to get out of their pits.
Happy and healthy is great. We should all strive for both.  We need both.
But now I'm seeking to create impact.  
I'm trying to change the world, even just one person at a time.  
---
My next 52 entries of Right as Rain will be focused on connecting with my community.
I started a business last year, Six Second Stories, that works with nonprofits and purpose-driven companies that seek that same impact on the world.  I help them find the stories within their organizations that might inspire the change we want to effect.  
These are people, right here in our beloved Triangle and beyond, that are fighting to make the world a better place — by starting with the people closest to them.
We can do this, y'all. But we have to work together.
---
Rain Bennett is a two time Emmy-nominated filmmaker, fitness professional, public speaker, and writer. His mission is simple: to help people realize that they too can be great, no matter where they come from or what they start with. It just takes passion, persistence, and a plan.
Bennett directed and produced his first feature length documentary in true indie fashion by traveling the world with only a backpack and a Canon DSLR camera. That film, Raise Up: The World is Our Gym won "Best of the Fest" at the Hip Hop Film Festival NYC and received global distribution through Red Bull Media House. He's been featured in publications like Men's Health and Sports Business Global and is a regular contributor to Breaking Muscle. When he's not making movies or training clients at Sync Studio in Durham, he's hosting a new webseries called The Perfect Workout Show.