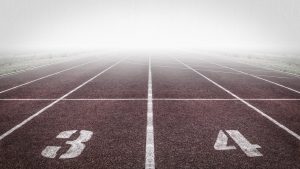 I was sitting on my mom's couch when I felt the first tear well up in my eye. It felt like I was a kid again and my first girlfriend had broken up with me. I suppose we're never really too old to seek out Mom's comfort. It was the lowest point of my life, probably because it immediately followed the highest point of my life.
After two years of traveling the world making a movie about freestyle calisthenics, a new fitness phenomenon, I came back to my home in North Carolina. Although not much had changed, I completely felt like an outsider. I lost my identity and had no path to walk down. No longer was I the expat posting cool Instagram photos from foreign countries, I was now the man who had to produce what he had promised. I was depressed, in debt, and directionless.
I closed myself off from my community, because I thought there was some valor in going at it alone. Perhaps I was running from my family, or at least what was familiar for my whole life. But now, for the first time, I felt lonely and admitted I needed help. I needed a plan.
The first step I had to take was opening myself up to new opportunities. Instead of hiding like hermit in my dungeon, I decided to embrace my community. The first piece of the puzzle was meeting someone (though I didn't know then) that would change my life and possibly spend the rest of it with me. Truly caring about someone more than yourself is a heck of a motivator. When I thought moving away to LA was the solution of my problems and it didn't happen, she told me LA wasn't what was special — I was.
After I decided to stay I began saying "yes" to more opportunities. I said "yes" to a meeting that I didn't want to go to with an old colleague. That man became my editor and producing partner in several films. I said "yes" to a part-time job at Sync Studio in Durham. That place became a second home to me and those people became my family. It allowed me to be happy doing something I truly love — teaching people how to be healthy. I allowed myself to experience new challenges, like storytelling at The Monti, taking adult gymnastics classes, and creating a podcast. I developed a routine and it was helping, so I doubled down.
The second step was setting schedules to better myself, with no immediate goal in mind but to better myself. I woke up early, meditated in the mornings, spent an hour or two learning (reading or listening to podcasts), wrote every day and made sure to exercise. I fed my mind and strengthened my body. As much as possible, I stuck to this routine. This allowed me to see progress in all areas over a long term. I wasn't overwhelming myself by trying to achieve too much in too short of a term. I was giving attention to each of these areas for a small amount of time, but frequently. That disciplined routine and persistence finally generated progress. After seeing these results, I became fixated on growth and learning new things. Apparently, motivation isn't just the cause of action, it can also be the effect of action. One just needs to sit down, do the work, trust the process, and eventually he or she will see the results.
The third step was to plan. I set specific goals for myself, but more importantly, I created actionable tasks to complete that would achieve these goals as well as have measurable results. I wrote my first book with NaNoWriMo, I became a more well-rounded athlete with gymnastics and MMA training, I finished my film and sold it to Redbull TV, I helped others achieve their fitness goals at Sync Studio, I paid off all my debt by reading about proven methods. I turned my life around. Things were working out for me and even when they didn't, I learned from them and applied that knowledge to my next goal.
Then, out of the blue, my girlfriend told me she was pregnant. I did not have a plan for this. This news two years ago would have terrified me. I wasn't complete as a person and I had no idea how to stick to a plan or schedule. I wasn't happy with where I was in life and that affected those around me.
But now, my feet were planted back in North Carolina, in a community that I loved and that felt like home, with a woman that made me feel invincible. I knew that I would be ready for anything that this little girl would bring, because I was open to any experience and prepared for any outcome. But most importantly, I was happy.
---
Rain Bennett is a two time Emmy-nominated filmmaker, fitness professional, public speaker, and writer. His mission is simple: to help people realize that they too can be great, no matter where they come from or what they start with. It just takes passion, persistence, and a plan.
Bennett directed and produced his first feature length documentary in true indie fashion by traveling the world with only a backpack and a Canon DSLR camera. That film, Raise Up: The World is Our Gym won "Best of the Fest" at the Hip Hop Film Festival NYC and received global distribution through Red Bull Media House. He's been featured in publications like Men's Health and Sports Business Global and is a regular contributor to Breaking Muscle. When he's not making movies or training clients at Sync Studio in Durham, he's hosting a new webseries called The Perfect Workout Show.