One of my favorite parts of my job has been being able to see the world.
I love to travel, see places that I haven't seen before, and experience some of the unique things that make those places special. Every city has something.
Whether it a certain food, or a certain must-see view, or just the people themselves, my goal is always to seek out what differentiates that region from any other and then I want to see it, do it, or taste it. I want to experience it.
Lately, I've been on the road almost every week.
It's been exciting, because I've had the chance to visit multiple cities I've never been to, but it's also been challenging to maintain my structure, my energy, and even my sanity at times.
This is the life I signed up for. I love it, so I make it work.
But having a daughter under two-years-old and building a family has changed things now. My priorities are different.
Back in 2013 and 2014 when I was the freewheelin' international filmmaker of mystery making the documentary "Raise Up," I could come and go as I pleased, as long as I got the content I needed.
This story at our "Health and Happiness" storytelling series had everyone's jaws on the floor. I mean… incredible.

How One Self Defense Class Stopped a Serial Rapist | Robert Foster https://t.co/I3ZUABrTMn via @YouTube

— Rain Bennett | Keynote Speaker (@rainbennett) October 25, 2019
I could stay an extra day (or week) in Norway if I was having too good of a time to leave. I could spontaneously go visit my friends Paul and Dominique for a week each just because I was working in a neighboring country. I could change plans, I could cancel plans, or I could create new ones at the drop of a hat.
I could do anything I wanted.
Now that I have a family, though: 1) I don't want to be away from them for long, and 2) I'd be pretty inconsiderate and a lousy husband if I just came and went as I pleased without concern.
The problem is, my heart still longs to have those rich experiences when I'm in a new place.
So now I have to make the most of the moments I have.
I still seek to make those memories. And I do that through what I call "mini excursions."
Sometimes, they last a day. Sometimes, they last an hour. But they always show me something new or at least allow me to have a uniquely _______ (city) experience.
In San Francisco this September, I booked a hip hotel in Fisherman's Wharf. It was expensive, but I only had one night in town and I wanted to make the most of my time there. After my work at UCSF, I checked in to my hotel, dropped my bags off, and set out on foot to walk around North Beach.
North Beach was made famous by the "Beat Generation" writers like Jack Kerouac and is full of character. I'd spent plenty of time here before, visiting my friend Marcus in years past, but it was 2010 the last time I was there. I walked along Columbus Avenue, with the Coit Tower shining down on the neighborhood, and soaked in the scene.
I had dumplings for dinner (best in the Bay Area), bought a book a City Lights Bookstore, had a beer at Vesuvio Cafe, and even stopped for an authentic gelato on the way back (North Beach is also San Francisco's "Little Italy").
It was all so cliché I almost couldn't stand it, but it completely warmed my heart with nostalgia.
Two weeks later in Chicago, I arrived late in the afternoon one day and had my interview scheduled the next morning. There wasn't much time at all. I wanted to exercise, so I just grabbed my headphones and started running.
I was close enough that within a few minutes I crossed the Chicago River and landed in Millennium Park. I took an obligatory photo of "The Bean" sculpture and then landed on the shoreline of Lake Michigan. Then I found myself in Grant Park and jogged around until I found corners I'd never seen before. I did handstands among the Agora sculpture of giant legs.
This few block radius of Chicago is jammed-packed with Chicago-esqe things: Grant Park, The Art Institute, Navy Pier, Millennium  Park, the Field Museum, and Soldier Field. I saw them all.
Just walking around and sightseeing is totally a uniquely Chicago activity. Sadly, I missed the chance to cap it off with a Chicago hotdog.
In Portland, I also didn't have much time, but I spent two hours hiking Marquam Trail, seeing the ferns and tall trees of the Pacific Northwest, a far cry from my native Carolina Coastal Plains.
It was insanely gorgeous and peaceful.
The next day, I did make it to Powell's Books — the "world's largest independent bookstore" that takes up an entire city block. (WORTH IT)
In Lexington, I had an hour before my flight back home, so I found a place with a good version of their famous "hot brown" sandwich.
In Philly (or actually just outside of Philly), it was just taking myself out for a beer and a movie.
It wasn't even anything uniquely Philly!
The point is: it was uniquely me.
The point is that I took the moment.
When my choices are to sit in the hotel room and watch TV, answer endless emails, or go out and experience the world, I try to make the most of the moments I have.
---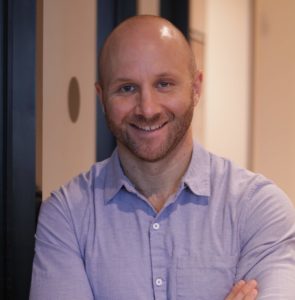 Rain Bennett is a two-time Emmy-nominated filmmaker, writer, and competitive storyteller with over a decade of experience producing documentary films that focus on health and wellness. His mission is simple: to make the world happier and healthier by sharing stories of change.
You can read the rest of "Right as Rain" here, and check back every Wednesday on Chapelboro for a new column!