This week I'm in San Francisco for two days and Lexington, Kentucky for another.
Nothing quite squelches the plan like travel.
"The plan" could be anything that you try to keep in a consistent routine: eating, not spending frivolously, or writing your weekly Chapelboro column.
That's why I'm writing it late Tuesday night while I wait on my "red-eye" to arrive at SFO.
It's so incredibly easy to lose any routine we've established when we travel. All bets are off, schedules are erratic, and food options are limited. I know I am not the only one who experiences this. But this week, I've unlocked the key.
I have a fascination with airport bookstores, and an unfulfilled dream to have my book in one. This one was pretty cool in PHL. pic.twitter.com/N1sXZRrs47

— Rain Bennett | Keynote Speaker (@rainbennett) September 19, 2019
It's super simple and most likely if you suffer from this affliction, you've been overlooking it.
You just have to stick to the plan.
Okay, I know that's much easier said than done. But let's look at the operative word, here: plan.
Lately, I've been hyper-focused on narrowing the vision, decluttering my mind and life of the unnecessary, and seeking out depth in my work and tasks. Everything I've listened to or read lately has concentrated on some aspect of avoiding things that take me away from the task or goal at hand.
Today I was listening to a podcast featuring Nir Eyal, and will most likely read his book "Indistractable" when I return, when he said a line that summed it up perfectly:
"The antidote to impulsiveness is forethought."
Innately, I am a classic "tough it out" kind of guy who feels like if one is disciplined enough or just has the willpower, he or she can stay focused and not give in to temptation or distraction.
I learned the hard way that I was dead wrong.
I will still go to Facebook on my phone even when I delete the application, I will still eat poorly after I've fasted for a day, and I will still buy crap I don't need even when I'm broke.
But if I spend time beforehand writing out my plan for the day (of what I'll eat and when, where I'm working out and how, or what I will allow myself to purchase), then I have the best chance of success.
Monday I flew to San Francisco early in the morning. I spent the whole day at UCSF, conducting two interviews and one Facebook Live program for a cancer foundation client of mine.
There was a big lull in between interviews (one in the morning; one at 4pm) and because I knew the week of travel ahead would be challenging for my routines, I knew this was a make-or-break opportunity.
I could use the downtime to mess around on my computer and go grab some crappy overpriced cafe snacks, or I could stick to the plan and work on projects due later in the week and continue to fast until dinnertime (which I had already decided would be dim sum).
Because I had written it down and planned it out, I was able to treat it like any other task item to check off my list.
And boy, I sure love checking things off my list.
Went to San Fran with one book; coming back with four (granted one is a finger-puppet book about a lamb, but still… this ain't minimalism!).

— Rain Bennett | Keynote Speaker (@rainbennett) September 25, 2019
When I checked into the hotel, I didn't have much time to do all I wanted to do. The reason I was able to do them, though, is because I didn't give myself the option to think about them.
I changed clothes, worked out like I planned at 6pm, and by 7pm I was able to stroll around North Beach and enjoy myself as I sought out my dumplings.
These were all small wins, but to me, accomplishing them and sticking to the plan does so much for my progress. It's the small steps that count, right?
Tuesday I woke up and had a good breakfast, and although my legs were tired from Monday's workout, I had planned to get in a good 30 minutes of cardio on the bike.
This was incredibly challenging. I worked out the day before, wasn't that good enough?
No.
I booked that specific hotel because it had what I wanted in a fitness room, so that I could workout both days I was in town. It was part of the plan.
Because of that, albeit begrudgingly, I completed that task like any other.
Had I not sought out that fitness center, booked that hotel, and scheduled the amount of time the workout would require in my schedule, there is absolutely no way I would have.
Would I have come back heavier and out of shape? Of course not. But this is the first step on that slippery slope that takes us away from our goals.
Because I planned it, I didn't give my willpower a chance to fail.
I just needed to make the hard things easier.
---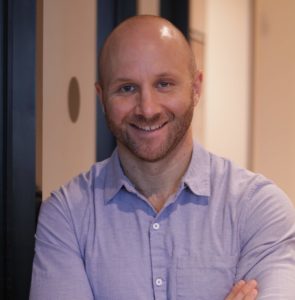 Rain Bennett is a two-time Emmy-nominated filmmaker, writer, and competitive storyteller with over a decade of experience producing documentary films that focus on health and wellness. His mission is simple: to make the world happier and healthier by sharing stories of change.
You can read the rest of "Right as Rain" here, and check back every Wednesday on Chapelboro for a new column!