It took me a long time to find my people. 
More specifically, it took me a long time to figure out who I wanted to serve, how I could serve them best, and (most importantly), why.
If you read this column frequently, you know that the way I serve my audience is by helping them understand the power of stories to create connections, build communities, and inspire action. 
Most of my audience is made up of small to medium-sized business owners and entrepreneurs.
But what sets them apart from other business owners is that I seek to work with people who are purpose-driven, as I am. What I mean by that is that I am attracted to working with people who want to go beyond business and actually seek to make their customers and communities better.
Because that is the compound effect.
If I help a person help other people, the effects and results multiply exponentially. And those little ripples turn into waves, which turn into positive change in our communities. 
Or as I said in a recent column, it creates a win-win-win. 
An example of these types of businesses that I choose as clients would be CQC Home, the custom remodeling company run by Ken and Ericka Combs
Yes, they created a multi-million dollar construction business, but their true mission is to create opportunities for their staff that did not exist before. They understand that the better their people are, the better their work is, and therefore, the better the company is.
The compound effect. 
Another example is a former podcast guest on my show who has become a new story coaching client. Dan Pierce, founder of Mentally Fit, created a community around taking control of one's mental health and normalizing the mental health conversation.
He achieved this by sharing his own story and journey with mental illness and his community has reached thousands around the globe.
And the most current example of the type of business owner I'm proud to work with is Bryan Piccirillo, a financial planner for Edward Jones.
Bryan reached out to me a few months ago to help him find his unique narrative voice and craft his own stories to reach the audience he wanted to serve.
Yes, he helps people understand financial strategy better, but he does so by bringing them into the community in which he exists, so that they can see examples of people similar to them that have achieved financial success.
The road to financial freedom is not the same for everyone and what someone defines as "success" differs from everyone else.
Bryan helps them carve their own path based on their goals and current circumstances, as well as create their own communities to help after they've established that path.
He understands the compound effect.
He also understands the power of storytelling to create those connections and communities that will help people's paths reveal themselves — so much so that he is providing people in our area with an excellent opportunity. 
Bryan hired me to conduct a three-hour storytelling workshop that he will offer for free to 10 Triangle-area business owners. 
On Tuesday, October 27, we will meet in a private room at Parizade, which will provide us enough room to social distance while still being together and benefiting from the human connection. We'll learn how to tell great stories and how to use them to better our communities.
Even though I've found new virtual ways to serve my audience, it will be the first time in eight months I have conducted a class in real life.
And that is crucial.
Because nothing helps us grow more than looking into each other's eyes, seeing the emotion underlying our words, understanding what lights us on fire, and motivating each other to live to our true potential and purpose. 
---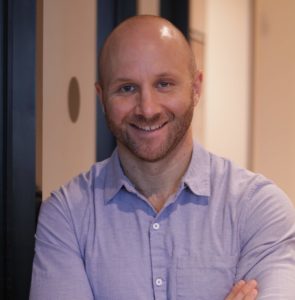 Rain Bennett is a two-time Emmy-nominated filmmaker, writer, and competitive storyteller with over a decade of experience producing documentary films that focus on health and wellness. His mission is simple: to make the world happier and healthier by sharing stories of change.
You can read the rest of "Right as Rain" here, and check back every Wednesday on Chapelboro for a new column! 
---
Chapelboro.com does not charge subscription fees. You can support local journalism and our mission to serve the community. Contribute today – every single dollar matters.