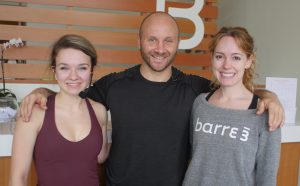 On my quest to find the perfect workout, I am always on the lookout for new and interesting fitness disciplines. Over the past few years, Barre workouts have exploded in popularity across the globe, but I never quite knew what they were.
Wellbridge.com says that:
"Barre fitness classes are simply ballet-inspired, incorporating a ballet barre and maybe some plies and pirouettes here and there into the workout. Essentially, barre classes mix elements of Pilates, dance, yoga and functional training, and the moves are choreographed to motivating music."
Recently, my friend Ariel from Lululemon has been posting Instagram pics about her working at a new Chapel Hill location that taught Barre classes. When I messaged her, she immediately invited me out to take a class (I think they just like to get guys in there to make them look like wimps!).
I showed up at 8:00am on a Wednesday and was greeted by Dana Zihlman Harshaw, the owner of Barre3 in Chapel Hill. She had a big smile and a bright energy that made me feel like I already knew her.
A former Broadway dancer, Dana recently escaped the city life to settle in our slow-paced southern haven and raise her family. We talked about our love for New York and how that city will always have its hooks in us, even though we both adore Chapel Hill.
She started having back problems in her 30s and tried almost everything to fix them. Frustrated with chiropractors and physical therapists telling her "that's just the way it is now" and that she should "just continue to stretch," she set out to find a better way.
Dana knew she didn't have to settle for being in pain the rest of her life.
Unfortunately, this was another thing we had in common. But fortunately for us both, we realized that building strength was the key. Our muscles are like support beams for our spine and the stronger they are, the stronger our frames will be.
Dana found Barre3, a version of a barre workout that incorporates isometrics holds (a favorite of mine for strength results, though my clients agonize over them), small range movements, and large dynamic movements. It started working for her and she was hooked. When her family relocated to North Carolina, Dana soon opened up her own franchise.
From my experience, we are in an age where many people are seeking new forms of fitness that offer three specific variables:
They want something new, fun, and creative.
They want something that targets the whole body effectively and efficiently.
They want something that in a community based setting.
Barre3 has it all. The vibe is loose, with upbeat music and sweaty smiles from classmates; the workout is intense and challenging, but possible for anyone at any level; and you feel a burn in the deep tissues and fibers of your muscles that you might not get in other workouts.
The thing I noticed most was how engaged my glutes (the butt muscles) were. From my own back-pain journey, I learned that if your glutes aren't engaged properly in your movements, it can wreak havoc on your lower back. This is absolutely one of the most common issues with our bodies these days and something I stress to many of my clients.
Also, from my boxing days, I know that the body is nothing without the legs. These are the columns from which our whole foundation is built and the posterior chain keeps up standing up straight. The fact that Barre3 focuses so much on finding that good form and holding it in place, until your knees start to shake, promotes long-term growth and strength gains in those big leg muscles that support us.
I loved this workout. I wish more guys would try it, but I know the tide is starting shift. If you look at any yoga class, you can easily see that. Something "ballet inspired" might take longer to appeal to a Type-A male, but any real athletes know we need balance in our regimens.
As Ariel put it, "sometimes guys can also be intimidated by being in class full of beautiful, strong women."  I seemed to deal with that aspect just fine — the pliés, maybe not so much.
Wanna watch my Barre3 workout?