A couple weeks ago, I wrote about the importance of having boundaries and saying "No." to things when we feel overwhelmed, stressed, and even if they're just not a priority.
Since then, there have been two perfect examples of how to do this in my life — one that happened to me and another that I delivered (inspired by the former).
Tonight, as I have once a month for the past three months, I'm hosting a live storytelling night called Health and Happiness. We have four or so local influential people tell personal stories about their journeys with different pillars of health and then have a community conversation about what it takes to control those pillars of health.
My job is to curate a diverse group of storytellers that have unique experiences within each pillar of health (which all have wide-ranging sub-topic possibilities) so that different kinds of people can resonate with the stories told.
I reached out to Sheila Amir, a nutrition writer and entrepreneur who was raised in a Persian household (but in Wyoming) alongside her dad's "epic garden."
We talked for half an hour about owning a business and having the ambition that we both have, and how health is such an important ally in that journey — how it impacts everything we do and can be quite a shame monster that lurks over our shoulders telling us we are crappy people.
Sheila told me how eating well helped her get through what she called a "shit cake saga."
I laughed out loud. She was perfect for our lineup.
Beyond that, I was happy to have met her. We had many mutual friends already and I'm in a place in my life where I'm trying to surround myself with as many like-minded folk as possible.
She told me she'd assess her workload and think about it.
.@rainbennett is quite athletic…he also did a great job keeping the crowd engaged in #storytelling! #NARCommDirs pic.twitter.com/7W4poHbrtz

— Tiane Harrison (@TianeHarrison) July 10, 2019
When I pinged her back a week or so later to get her final response, it was this:
"Thanks so much for circling back. I appreciate it. I've reviewed my goals and my workload and I'm going to have to pass on this opportunity this month. Not gonna leave ya hanging. Below are some folks that I would highly recommend reaching out to and you're welcome to drop my name like it's hot with any of them."
I was bummed, because I knew she'd be great, but I loved how she handled it.
First, she said from the beginning of our first conversation that she was laser-focused on her priorities and boundaries at the moment and made sure not to hint at a commitment yet or lead me on. So I wasn't caught off guard, just bummed.
But I had to respect it. This is what made her the type of person I wanted to work with anyway.
And I loved her language. It was respectful and playful, which let me know we're still buddies. It was helpful, because she left me with three great options for alternatives. And it was clear — which I think is the biggest problem for many of us (think: "Sounds fun! I'll try to make it!").
I thanked her for her response and booked an equally awesome storyteller.
Last week, I found myself in a situation probably similar to how Sheila felt when we first talked. An opportunity arose, one that seemed like something I would definitely enjoy participating in, but it collided with a lot of other things I had going on at the same time.
I was keynoting at a conference in Kansas City, when I got a call back from another speaker submission for a conference in Atlanta this fall.
Immediately, I got excited because I just started public speaking a year or so ago and now I'm getting booked for solid, respectable gigs. Plus, new opportunities are emerging!
But this thing happens to me, and I suppose it happens to many of us, when I'm starting something new or building a business, where I think I need to take advantage of every opportunity that presents itself.
The creator of this conference and I hit it off quickly. I knew we'd work well together. But I was torn because I had another event that night back in Durham and it would mean I had to rush back from Atlanta to make it in time.
Now, the "hustle hard" demon on my shoulder told me, "Rain, you got this!" like I'm Deion Sanders in 1992, flying back from an NFL game to play a MLB game in the Braves' postseason.
But being in this situation before, I knew that in reality both events would suffer, as well as my productivity and health before and after the trip itself.
And after being let down so graciously a couple weeks before, I knew what to do.
I passed, as graciously as I could.
Afterwards, I told Sheila how she inspired me to make that decision.
"How did it make you feel??" she asked.
"Great, actually." I replied. "Haven't thought twice about it and it already reduced the amount of stress that was starting to surround it."
Now… what could possibly be more on brand with pursuing my physical "health and happiness" than making a conscious decision that would protect it?
Sheila was making an impact without even being there.
---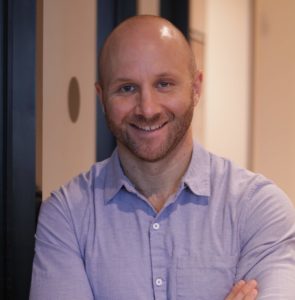 Rain Bennett is a two-time Emmy-nominated filmmaker, writer, and competitive storyteller with over a decade of experience producing documentary films that focus on health and wellness. His mission is simple: to make the world happier and healthier by sharing stories of change.
You can read the rest of "Right as Rain" here, and check back every Wednesday on Chapelboro for a new column!