I feel overwhelmed this week.
Yesterday a friend asked how I keep up with everything and I didn't have a good response.
I just said "Well, I keep a lot of to-do lists and I have a team that helps me."
In reality, I don't feel like I know how at the moment. I feel myself picking up speed in that vortex of distress and all I can say is that at least I recognize it now. That's a big part of the battle.
In the restaurant industry they call it being "in the weeds." I love that metaphor because you can picture it so vividly: frantically spinning in circles in the tall grass getting closer and closer to panic because everything looks the same and blends together.
The first step is to calm down. Realize what's happening and look at the bigger picture.
Write it down, if you need to. I've already talked about my love of to-do lists.
But lately, I've been learning how we can prevent this if we set clear intentions and boundaries — leaving a proverbial trail of breadcrumbs for when we get caught in the weeds.
Though it may seem contradictory to the "hustle-porn" often pushed by entrepreneurs these days, the solution is to do less, instead of trying to figure out how you can do more. Though we may be on our grind and want to say "Yes" to potential opportunities to grow our business, the solution is to set boundaries by saying "No."
This will not be easy — for us, or the people we essentially turn down.
But if we are clear with ourselves about our intention and honor our time and mental stability, it becomes way easier than the alternative.
Currently, the Stress Vortex I'm swirling around in consists of remodeling a home (which requires me to be there about 3 days a week), writing a book on storytelling (still), planning two vacations and three work trips in the next month (they don't feel like "vacations" at the moment), managing my business and its schedule while two team members are on leave this month, and planning for the biggest speech of my career so far. And of course maintaining good relationships with my family and friends.
(Oh, and I decided to shoot and short film in July, too, and auditions are tonight).
It's… a lot.
And I don't know what tasks to attack first.
"You may encounter many defeats, but you must not be defeated. In fact, it may be necessary to encounter the defeats, so you can know who you are, what you can rise from, how you can still come out of it."

~ Maya Angelou

— Rain Bennett (@rainbennett) June 23, 2019
I've probably let things go too far this time. But now I need to be relentless with my schedule and that means saying "No" to certain people and certain things.
There's a script I use which I've borrowed from virtual mentors: "I'm sorry, I'm just really (focused on, or…) prioritizing _________ right now and it's taking everything I have. I'd love to help/participate, but I wouldn't be able to commit fully and I don't want to show up that way."
Then, I at least try to give them an idea or point them to someone/something that could serve as an alternative.
It's hard, because I'm passionate about helping people and I want us all to win.
I also like working hard. It's in my DNA.
But I absolutely cannot let myself get stuck in that field of weeds. I am too set on my path and the mission, and I need clear steps to get to where I'm going.
I don't have any of this figured out.
I write about it because I am actively going through it, every day, and my goal is to share my experiences so that we all understand that it is a constant, lifelong process to manage these obstacles.
But if we are aware of when the stress demons creep up, slow things down, and set good habits, it's easier for us to set ourselves up for making it out of the weeds and back on the path.
Now, I will work hard the next two days, then hop on a plane to Austin to hang with some old friends on a lake and try my best to do nothing.
Featured image via Lisa Parkinson
---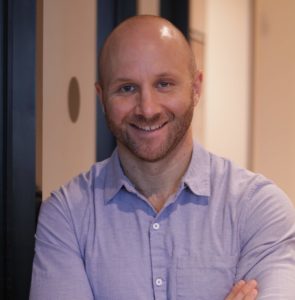 Rain Bennett is a two-time Emmy-nominated filmmaker, writer, and competitive storyteller with over a decade of experience producing documentary films that focus on health and wellness. His mission is simple: to make the world happier and healthier by sharing stories of change.
You can read the rest of "Right as Rain" here, and check back every Wednesday on Chapelboro for a new column!