Welcome to Woman Crush Wednesday!
This week, join 97.9 The Hill's Ali Evans for a conversation with Danielle Joseph, the creator and owner of Mason Dixon Designs!
Born from Joseph's love of calligraphy and lettering, Mason Dixon Designs has become a full-service design studio that features "Northern edge and Southern elegance."
"I was born in the north, in New Jersey and Pennsylvania, and then I came to college at UNC Chapel Hill," said Joseph. "I kind of grew up here, came into my adulthood, kind of came into my profession being around weddings and events and then into the design side of things … I like to say that I mixed my northern style with now my southern style from down here."
Starting a business is a daunting proposition for anyone, but Joseph has managed to find a balance that works for her in Mason Dixon Designs, and helps to build the life she's looking for.
"I think it's super important to have very realistic expectations when you set out," said Joseph. "…. I really took it upon myself, my first year of business, to be realistic about my goals in both how much time I was spending on how much profit I was making — and I think I really spent more of my first year learning about my business and what it means to be full time, because that transition from part time to full time, you kind of don't know what you're getting into."
Listen below for the full conversation between Ali and Danielle, and check back next Wednesday for another introduction to some of the most amazing women in our community!
---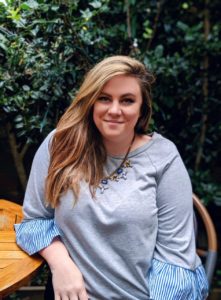 Join 97.9 The Hill's Ali Evans every Wednesday for another edition of "Woman Crush Wednesday," a three-minute weekly recurring segment made possible by Mosaic Comprehensive Care that highlights motivated women and their impact both in our community and beyond. If you'd like to nominate someone to be featured on WCW, email ali@wchl.com
Podcast: Play in new window | Download