As I came into my office to write today's column, I tripped over toys, camera equipment, and a whole couch, which is firmly pressed up against the back of my desk chair.
We are moving on Monday.
My whole house is stacked up with boxes, rolled up rugs, empty bookshelves and jam-packed trash bags.
In the middle of a global pandemic when we are all stuck at home every day, packing up all the stuff we have accumulated over three years (including our toddler and all the literal baggage that comes along with that) has been… challenging, to say the least. But we're excited, right?? Yay!!
In all seriousness, we are excited to move, even though we'll miss downtown Durham. I saw an article the other day about millennials moving to the 'burbs and it couldn't have been more perfect.
We have an expanding household (and if lucky, plan to have another child) and we wanted a place with a little bit more space, a better layout for a family, room for my office and a guest room, and a yard for my outdoors-loving little daughter.
We found the perfect place.
When I think about the journey we took to find this place, I'm actually relieved to be surrounded by boxes right now. But when I analyze that journey and all its steps, I'm reminded of a concept I learned about from business mentors in the past two years.
"Think slowly, act quickly," the old Greek proverb goes.
My wife and I had pretty different line items on our pros & cons lists of what we wanted in a house. She valued space and storage, proximity to highways and shopping centers, more recently-built and efficient homes, and a neighborhood in a good school district so we can stay there for a long time.
I, on the other hand, loved living downtown and being able to walk or bike everywhere, hate being near super commercial areas, was born with the affliction of an affinity for older homes (it's called character!) and don't like the style of modern-day manufactured neighborhoods, with their ticky-tacky houses that have no unique features.
But we did have several things that were important to us both. We both wanted two stories, a garage, and a yard. The reality was that to get those things, which were top priorities, I would have to sacrifice and compromise on some of my dislikes. Most of them occurred in those neighborhoods that I wanted to avoid.
We researched almost every night for six months, and several times a week for the six months before that. Nothing had everything we wanted. Or if it did, it certainly wasn't in our price range.
We'd exchange saved homes on Zillow with each other, only to find one or two things that were dealbreakers for one of us.
We finally found one that was worth touring. It was very modern and had the square footage and garage we wanted, but virtually no back yard. We couldn't give in, though our search was starting to feel bleak.
Then, during one of our nightly rituals, we found a place that we'd both saved.
We responded immediately because, even during the pandemic, good homes were getting swiped up fast. They sent us a virtual tour video and we scheduled a time to come see it in person the next day.
It had everything we wanted.
There was a big fenced-in backyard. There was a double car garage. There was a fireplace. There was a big bathtub in the master bathroom and a door to close when we had to use the toilet. There were three rooms and a bonus room over the garage! That meant room for me to have my office and a proper guest room!
It was in a commercial area close to all the major highways which just so happened to be the only commercial area in the Triangle I liked. It had access to a pool and playground that wasn't even mentioned in the ad! And, perhaps the best of all, was only $100 more a month than what we pay now.
We knew we wanted it.
But we hadn't officially met the owner and he was rushing us to sign a three-year lease which required two month's rent as a deposit. I naturally wanted to negotiate these things, but he had other applications coming in that very day.
We didn't know what to do. It all felt so rushed and we didn't like that. But we loved this house and would be devastated if we lost it.
Then I remembered the business practice to think slowly and act quickly.
What were we hesitating for? We'd done the research. We knew what the market had to offer. This house had everything both of us wanted and more! The schools were good. The price was right. And we knew we wanted to stay for a long period of time.
There was nothing left to think about.
We just needed to act.
And now, we start a new chapter.
---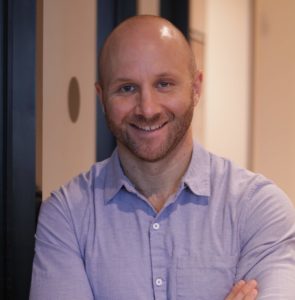 Rain Bennett is a two-time Emmy-nominated filmmaker, writer, and competitive storyteller with over a decade of experience producing documentary films that focus on health and wellness. His mission is simple: to make the world happier and healthier by sharing stories of change.
You can read the rest of "Right as Rain" here, and check back every Wednesday on Chapelboro for a new column! 
---
Chapelboro.com does not charge subscription fees. You can support local journalism and our mission to serve the community. Contribute today – every single dollar matters.