Join Aaron Keck Tuesday through Friday at 6:00 p.m. for "Live & Local," where you'll hear music from artists close to home, and even get the chance to listen in as local musicians talk about where they've been, where they're going, and what's happening in the local music scene.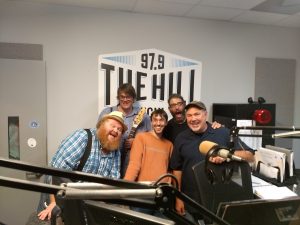 This time on "Live & Local," Aaron Keck takes some time to visit with "Raleigh-Durham's favorite pork-obsessed Surfabilly band," also known as Phatlynx! Mashing up rockabilly sensibilities with surf music flair, "surfabilly" music provides a low-fi, reverb-soaked trip back to a time when pounding drums and wailing guitars were sure signals that everyone involved was in for a good time.
Phatlynx, pronounced "Fat Links," got their start at Chapel Hill's own indie-friendly music venue The Cave (formerly dead, now alive and well), and since then has evolved into a rollicking show band with a big catalog of songs to play and the know-how to pull together audiences of all ages whenever and wherever they take the stage for another rollicking surfabilly show.
Part 1: "Comanche"
---
Part 2: "Gravy"
---
Part 3: "Ham Biscuit"
---
Part 4: "Hamburger Hop"
---