Join Aaron Keck Tuesday through Friday at 6:00 p.m. for "Live & Local," where you'll hear music from artists close to home, and even get the chance to listen in as local musicians talk about where they've been, where they're going, and what's happening in the local music scene.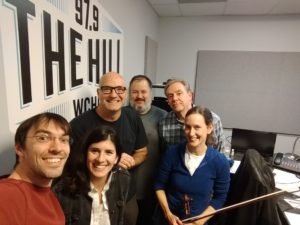 The band Mad Crush (John Elderkin, Joanna Sattin, Chuck Garrison, Laura Thomas, and Mark Whelan) has been busy lately, between releasing an acclaimed album that's received attention from Billboard to B-Sides and Badlands while selling out shows on tour.
As a spiritual successor and sequel to David Bowie's iconic "The Rise and Fall of Ziggy Stardust and the Spiders from Mars," although no one is going to complain about shortening the title to "Ziggy Stardust," Mad Crush's self-titled debut album highlights the strengths this North Carolina supergroup possesses. "Mad Crush" succeeds in acoustic romance, taking cues and inspiration from a variety of sources that deftly transition from thought to thought and theme to theme. Strings and piano alternate between soaring melody and subtle accompaniment, and you can listen below to hear what "Mad Crush" is up to for yourself as they perform live in the WCHL studio!
Part 1: "Time For A Love Song"
Part 2: "Northern Lights"
Part 3: "Making Complaints"