Join Aaron Keck Tuesday through Friday at 6:00 p.m. for "Live & Local," where you'll hear music from artists close to home, and even get the chance to listen in as local musicians talk about where they've been, where they're going, and what's happening in the local music scene.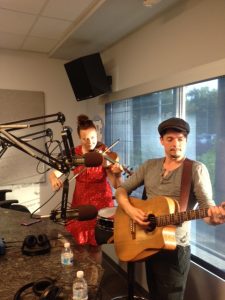 "A Different Thread" is a musical duo with roots on both sides of the pond. The pair met while busking in Galway, Ireland and features Alicia Best, of Durham, North Carolina and Robert Jackson, who is from Staffordshire, England.
What started as strangers playing music on the street together quickly evolved into an ongoing harmony, and the British-Americana flavor of "A Different Thread" was soon on the road.
The band has placed first at the Shrewsbury Folk Festival, been featured on NPR's "The State of Things" and sold out multiple shows while touring their debut album "On a Whim." In this edition of "Live & Local," Best and Jackson discuss their journey so far and play a few songs from "On a Whim" live in the WCHL studio!
Part 1: "On A Whim"
Part 2: "Potter's Field"
Part 3: "Rosa Rosa"