Join Aaron Keck Tuesday through Friday at 6:00 p.m. for "Live & Local," where you'll hear music from artists close to home, and even get the chance to listen in as local musicians talk about where they've been, where they're going, and what's happening in the local music scene.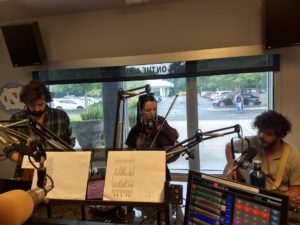 Join Aaron Keck for another live in-studio concert, this time from local loop pedal master Ravary! Justin Ellis, Jones Bell, and Waverly Leonard stop by to chat and play a few songs from the new project, and you can listen to the full set below.
Self-billed as a "solo-with-friends" project, Ravary comes from the efforts of London-born Justin Ravary Ellis and his experiences playing music and working toward making his own music that reflects the reality — highs and lows alike — of living in your twenties. With live loop pedals and the help of some talented friends, Ravary's music feels like Arcade Fire by way of Echo and the Bunnymen more often than not, and that's most assuredly a good thing.
Part 1: "I Echo"
Part 2: "Hands To Feel"
Part 3: "First To The Party"