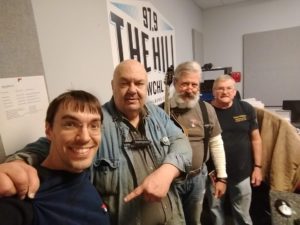 With humble beginnings in VA hospitals across North Carolina, the Marathon Jam motto of "Curatas Per Musica" (Latin for "Healing Through Music") has evolved into a far-reaching effort, with individually organized events popping up across continents and countries. In Africa, Iraq, Afghanistan and England and in over 20 cities across the United States, there are Marathon Jams taking place to benefit veterans and first responders.
Listen below as WCHL's Aaron Keck welcomes John Santa, Keith Carroll and Robert Welch to promote the jam and talk about what it's like to play twelve straight hours of music. This year, the jam is taking place from 1 pm to 1 am Saturday, February 23 at Chapel Hill's American Legion post, all to raise money for the Fisher House. The Jam also helps to support other charitable causes by offering stipends supporting contributors, including Doctors Without Borders, Wags 4 Tags, Bikers Against Child Abuse and Patriot Guard.
For those who cannot personally attend the Jam, there are outreach programs that "take the jams to them." The Marathon Jam sends artists and musicians into VA hospitals and other treatment centers to remind military service members, firefighters and police officers that they are not forgotten.
Part 1: "Watching the Water Rise"
Part 2: "Knockin' On Heaven's Door"
Part 3: "Last Night"