Join Aaron Keck Tuesday through Friday at 6:00 p.m. for "Live & Local," where you'll hear music from artists close to home, and even get the chance to listen in as local musicians talk about where they've been, where they're going, and what's happening in the local music scene.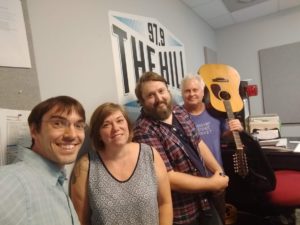 This time on Live & Local, join Aaron Keck in the studio with Magnolia Collective, known to their friends as "Magco," as they discuss the long road that's brought them to the present day and some of the music they've made along the way.
The full current lineup is Daniel Snyder on guitar and vocals, Rich McLaughlin playing piano, steel string guitar and singing some himself, Mimi McLaughlin on bass and vocals and Jonathan Truesdale on drums. With an EP and a full album under their collective belt — "Ghost Stories" and "An Old Darkness Falls," respectively — Magnolia Collective has certainly put in the time to become a local performing staple. There's some interesting things on the horizon for Magnolia Collective, as well, so listen below to hear his full session live in the 97.9 The Hill studio, and tune in for more Live & Local weekdays at 6:00!
Listen below for Aaron Keck's interview with Magnoli a Collective, and to hear performances of their music — from well-worn favorites to new material — live in the 97.9 The Hill studio