Join Aaron Keck Tuesday through Friday at 6:00 p.m. for "Live & Local," where you'll hear music from artists close to home, and even get the chance to listen in as local musicians talk about where they've been, where they're going, and what's happening in the local music scene.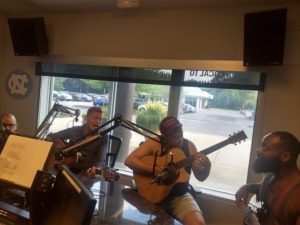 This time on Live & Local, join Aaron Keck in the studio with local favorite band Heat Preacher! Members JD Rust, Nick Stroud, Rob Dimauro and Hugh Swaso play three songs on the air and talk about how the band got started, where their music — and band name — comes from, what it's like to perform and more!
With classically trained and self-taught musicians sharing the stage, Heat Preacher marries rock, pop and soul music into a contagiously enthusiastic celebration that's quickly gathered a following in the Triangle. With recent recordings galore and a full album on the horizon, Heat Preacher has some impressive things in the works for the near future! Listen to three songs performed live in the WCHL studio below, with conversation and tidbits in between.
Part 1: "Small Towns"
Part 2: "Fire"
Part 3: "When I Want To Be Right"