Join Aaron Keck Tuesday through Friday at 6:00 p.m. for "Live & Local," where you'll hear music from artists close to home, and even get the chance to listen in as local musicians talk about where they've been, where they're going, and what's happening in the local music scene.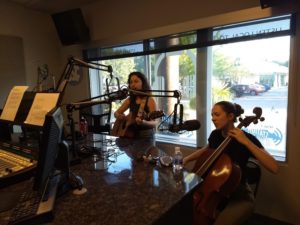 This time on Live & Local, join Aaron Keck in the studio with Honey Magpie — an indie-folk trio from Chapel Hill that takes timeless three-part vocals harmonies and classical string instruments and blends roots rock with modern indie pop for a sound all their own.
With their second album in the pipeline and scheduled for an early 2020 release, Honey Magpie — consisting of  Rachael Hurwitz (vocals, guitar, keyboard), Pippa Hoover (cello, vocals) and Kati Moore (violin, vocals) — are expanding their setlists and overall repertoire with songs that fit right in with local listeners and wide-ranging fans alike.
Listen below for three songs played live in the 97.9 The Hill studio and some conversation with Aaron Keck, and listen for more "Live & Local" at 6:00 p.m. during The Aaron Keck Show Tuesday through Friday.
Part 1: "Midnight Morning"
Part 2: "The Garden"
Part 3: "Smallest Grains of Sand"