Join Aaron Keck Tuesday through Friday at 6:00 p.m. for "Live & Local," where you'll hear music from artists close to home, and even get the chance to listen in as local musicians talk about where they've been, where they're going, and what's happening in the local music scene.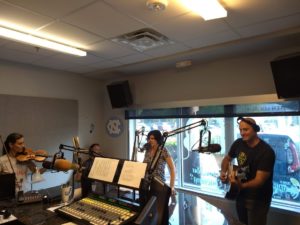 This time on Live & Local, join Aaron Keck in the studio for the triumphant return of local favorite "Mad Crush," who have been on the show before and have come back by for the premiere of their new song "(Imagine The Girlfriends I'd Have) If I Still Had Hair" and to play a couple other selections live in the studio!
"Mad Crush" is John Elderkin, Joanna Sattin, Laura Thomas, Mark Whelan, and Chuck Garrison — a group known for their good-time musical stylings and creative flair. You can listen to their three in-studio performances in full below, as well as conversations with Aaron Keck about how their life together as a band has been proceeding since their last "Live & Local" visit.
Part 1: "(Imagine All The Girlfriends I'd Have) If I Still Had Hair"
Part 2: "Trouble's Coming"
Part 3: "Stay In Bed"