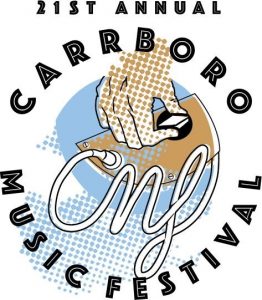 2018 marks the 21st anniversary of the Carrboro Music Festival, an annual celebration of Carrboro culture and music featuring around 200 acts performing across 29 venues.
The event is coordinated through cooperative efforts from the Carrboro Recreation and Parks department, as well as the Carrboro Music Festival Planning Committee. The festival enjoys the full support of the Town of Carrboro and the Carrboro Tourism Development Authority.
"Sunday is what I call 'my favorite day of the year in Carrboro,'" said Carrboro mayor Lydia Lavelle. "It's the best day of the year to come in, walk around, feel the Carrboro vibe, listen to good music, have some good food and drink, it's awesome."
While the main event is held on Sunday, the festival features a kick-off event on Saturday at Carrboro Town Commons, starting at 2:00 p.m., following the weekly Farmer's Market.
The Carrboro Music Festival represents an effort to highlight Triangle-area performers and a diverse range of musical styles and genres. The event is also meant to foster a sense of community through this showcase, bringing local talent together to connect locals and visitors alike.