Last week I was home for one day in between two exhausting trips.
I had arrived back at RDU at 5 a.m. and had a sick child at home, which meant instead of a day of me resting and catching up on work, I would be spending the day looking after her. That's part of the job as a parent, but as any parent knows, "sick days" are more than a little bit high-maintenance.
I was tired from the red-eye flight from San Francisco and had resigned to not getting any work done that day or getting any rest, either.
The only thing I was looking forward to was my soccer game later that night.
Around 1 p.m., I got a text from a friend on my team telling me that another teammate needed a babysitter in order to make the game and asked me if I knew anyone.
My family has a couple of babysitters that we normally use, and I really wanted to win the game that night, so I felt like I could be a good team player and help.
I reached out to Maya to ask for one of our go-to sitter's information, waited for her reply, sent the babysitter a message, waited for her reply, and then ultimately found out she couldn't.
Then the original friend who reached out, the friend who needed the sitter, and I, all started a group text message where we chatted to try and figure it out.
I was taking this on and starting to stress about it.
Then I remembered that another friend once offered to babysit my daughter, though the opportunity to hadn't emerged yet. I messaged her to see if she was interested in babysitting my teammate's kid.
She tentatively said yes, but I had a feeling that she didn't really want to but was just doing it to be helpful for me. So I explained that she should only take this if she was looking for more work and not as a favor.
We ended up going back and forth about it for a while and, not only that, we then got into some tangential discussion (okay, a debate) that took us way off the topic at hand.
And because my nature is to argue and stand my ground (even when it's irrelevant) I couldn't let it go. I felt my pulse rising. My stress level increased. I had so much going on that day and was exhausted and there I was in a text debate and…. OH MY GOD what was happening??
I gave her the easy out and threw my phone in the lake.
Okay, there was no lake, but I put it down and took a deep breath.
I remembered a line I had just read the week before in Greg McKeown's book, Essentialism.
"Their problem is not your problem," a chapter stated.
McKeown was more referencing our tendency to let others' problems consume us, in an effort to help them that ultimately only enables them (which I tend to do as well), but I thought it applied in this scenario also.
The question I had to ask myself was, "Why was I working so hard to solve my friend's problem?"
To be sure he wasn't stressing it like I was.
Was it that I wanted to win the game and make sure our best players were there? Sure. But clearly there was some other psychological issue going on that made me prioritize someone else's issue, that I had zero control over, on a day where I was already exhausted and stressed.
In that moment, I let it go and told my friend I couldn't help him.
"No worries, mate. Thanks for trying." he replied, cool as a cucumber.
As fate (and miscommunication) would have it, Maya had a work party that night, so I was stuck at home with my sleeping daughter and couldn't even make the game.
Irony is a cruel mistress.
There is nothing wrong with trying to help those that we care about. But there is also nothing wrong with saying "No" when we must make our own priorities just that: our priority.
Featured image via Anna Norwood
---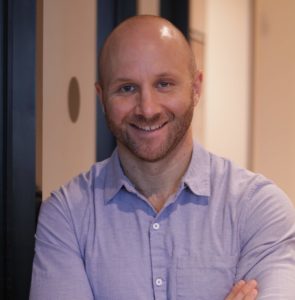 Rain Bennett is a two-time Emmy-nominated filmmaker, writer, and competitive storyteller with over a decade of experience producing documentary films that focus on health and wellness. His mission is simple: to make the world happier and healthier by sharing stories of change.
You can read the rest of "Right as Rain" here, and check back every Wednesday on Chapelboro for a new column!