Last year, I made a goal to pursue more speaking engagements to complement my writing.
And last week, after booking a few different workshops and small speeches over the past twelve months, I booked my first keynote speech — which happens to be for a national organization!
I'm ecstatic and proud, but I'm starting to feel that all-too-familiar Impostor Syndrome creeping up again.
Not only that, but tonight I'm hosting the first part of a six-part storytelling series on the different aspects of health. I've never created or hosted an event (or series of events) like this and I'm certainly not an expert on mental health (tonight's topic).
I feel isolated and vulnerable.
Can I do this? Who am I to even think I can?
The irony is, when I am speaking or presenting, most often it is about human connection through storytelling. So when I feel alone or scared, my plan is to resort back to what I know.
"Don't be intimidated by what you don't know. That can be your greatest strength and ensure that you do things differently from everyone else."
– Sara Blakely

— Rain Bennett (@rainbennett) April 24, 2019
The keynote speech kicks off a conference called the Communication Directors Institute that is presented by the National Association of Realtors. When I think of how Realtors communicate and connect with one another, I only go to one person: my mom.
My mom doesn't use Facebook. She barely uses the internet.
Yet year after year, if she isn't the top seller in her county, she's in the top three. She didn't get there by using tips, tricks, or tactics. She got there by constantly and consistently building her tribe, one loyal connection at a time.
Everything my mom has ever done or been a part of has put her in the position to be successful today.
When I was a kid, she was part of every organization, team, or classroom I was. Other names for her besides "Mama" were: Choir Director, Cub Scout Den Leader, Grademother Chairman, Team Mom, Party Planner, PTA Member, and Official Ass-Whooper for me and my friends.
(Okay no one called her the last one, but my friends are still scared of her and we're almost 40.)
She also had a part-time job during tax season at H&R Block for 22 years. All those people she had connected with through life and parenthood would trust her with their personal information at the most important financial time of the year. Each year, she'd gain new loyal customers.
So when she was finally brave enough to take the leap and start her own real estate business, those people followed her. Even though it was a new field for her, people believed she could be the one to help them.
Starting in real estate was a new beginning, but she wasn't starting at square one. She'd been building her tribe — her group of people that supported and believed in her — for decades.
She did it with a slow grind. One person at a time.
The other way she built that tribe was by putting the focus on those she was trying to impact. So when her goal is to help people find a house that they can make a "home," she genuinely has their best interests in mind. That is the literal definition of an agent (a person who acts on behalf of another person), although I don't think every agent lives by it.
When I feel that fear rising in my gut, I want to lean on this model for support.
And if I think about what I want those people to leave my speeches with, even if it's just one person, I can take the focus off of myself and just focus on creating a deeper connection.
Then slowly, but surely, I believe I too will build my tribe.
---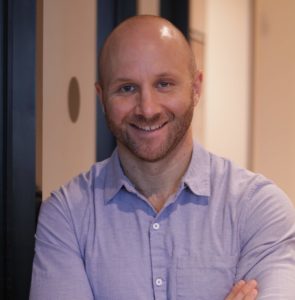 Rain Bennett is a two-time Emmy-nominated filmmaker, writer, and competitive storyteller with over a decade of experience producing documentary films that focus on health and wellness.  His mission is simple: to make the world happier and healthier by sharing stories of change.
You can read the rest of "Right as Rain" here, and check back every Wednesday on Chapelboro for a new column!