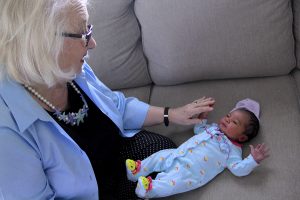 Two weeks ago, I sent my mom a Mother's Day card with this beautiful picture of her and my daughter, her first grandchild, when she was just two days old. The card talked about how I see all the things my mom did for me in a different light now that I am a parent. It was perfect.
And it's so true. Even though my daughter is only six weeks old, it's clear to me how much my mom sacrificed for my brother Beau and me — all while never carving her own career path, dealing with an alcoholic husband, and not having her own parents alive for support.
I look at that picture and hope that my daughter will grow up to realize the strength that her grandmother had and learn to emulate it.
Whenever I'm feeling behind "schedule," or that I haven't accomplished what I've wanted to by now, or even those days when the dreaded "What if you never accomplish what you want to?" comes creeping into my head, I think of her story.
My mom married one of those men who didn't want her to have a job, or felt threatened by the thought of it. She still worked for H&R Block during the four months of tax season for 22 years, but mostly she spent her time volunteering and taking an active role in everything Beau and I did. She was "team mom" for every sports team, "grademother chairman" for every class, a choir director, Cub Scout leader, PTA member, musical director, church youth group leader and field trip chaperone. (She admits that she wouldn't trade her time spent with us for anything.)
When I was deep into high school, she finally left my dad and got her first full time job with nothing but $500 to her name.
She'd always loved houses and her hometown of "Little" Washington, and she was a natural salesperson, so she thought real estate would be a good fit for her. She wanted to get her license years before, but my dad scoffed at her and told her he wouldn't have her running around in class with men trying to flirt with her.
She got her license in the late 1990s and went to work for a small company in downtown Bath, a tiny town on a creek just east of Washington. The years she spent building up a network at football games, field trips, and her seasonal tax job paid off quickly. She won Rookie of the Year in Beaufort County and quickly became a force in the local real estate market.
After a few years, she'd outgrown the little independent shop in Bath and reluctantly told her boss that she was moving on to a bigger corporate office of a national franchise. Her boss told her she'd never make it there.
She did, in fact, make it at the bigger company — so much so that she got nationally awarded for selling $10 million dollars in property. Unlike big metropolitan markets, she didn't get this by selling a few million dollar homes. She sold 68 units averaging about $160,000 per listing.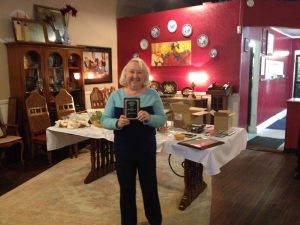 After a few years, the management of the company partook in some questionable practices and after being confronted by my mother, nothing changed. Morale was down and she was not the only one displeased with how the company was operating. So she and her coworker (and soon-to-be partner) staged a mutiny and straight-up "Jerry Maguire'd" the place, leaving to start their own company and taking about 10 agents with them.
This was just before the real estate bubble burst in 2007 and countless new agencies popped trying to capitalize off the frenzy of waterfront property sales in Beaufort County. My mom and her partner had $13 in their business account when the market came crashing down in the late summer that year. But, they had the most listings.
It was a good sign and would be the only thing that kept them afloat.
All the other agencies closed just as quickly as they opened and Washington was left with just three. It got back to my mom that head of one company, and long-time king of real estate in Beaufort County, said "Those girls won't last six months." to some of his cronies.
Well last they did.
After 10 years, my mom and her partner own three companies and are the top producing company in their market. In 2016 she was awarded the Beaufort County Board of Realtors Sales Award again for selling $10 million in property. This hadn't been done in Beaufort County since (the last time she did it!) 2005.
This is the type of woman I want my daughter to be — one that is bold and dares to be great; one that believes in herself when the odds are against her; and most definitely one that doesn't listen to any man (or any person at all) tell her she can't do something.
Anytime I think about my mom's story, it shows me that it's never too late to become the best version of ourselves.  It makes me realize that no matter how old I am, and no matter what my situation is, I can follow my dreams and make them become real.
---
Rain Bennett is a two time Emmy-nominated filmmaker, fitness professional, public speaker, and writer. His mission is simple: to help people realize that they too can be great, no matter where they come from or what they start with. It just takes passion, persistence, and a plan.
Bennett directed and produced his first feature length documentary in true indie fashion by traveling the world with only a backpack and a Canon DSLR camera. That film, Raise Up: The World is Our Gym won "Best of the Fest" at the Hip Hop Film Festival NYC and received global distribution through Red Bull Media House. He's been featured in publications like Men's Health and Sports Business Global and is a regular contributor to Breaking Muscle. When he's not making movies or training clients at Sync Studio in Durham, he's hosting a new webseries called The Perfect Workout Show.