Welcome to Woman Crush Wednesday!
This week, join 97.9 The Hill's Ali Evans for a conversation with Christy Graves — Chapel Hill native, philanthropist and vice-president of Chapel Hill Toffee! Graves is also the voice behind christygraves.com, a food-and-family lifestyle blog that contains all kinds of helpful hints, recipes and more.
Chapel Hill Toffee is a local confectionery staple with strong roots in the Graves family kitchen that began with Graves' mother-in-law's recipe.
"Even though we've grown steadily thanks to all of the support of this local community, we still make all of our toffee by hand," said Graves. "My mother-in-law, my husband, my brother in law and myself. We are also focused on donating a portion of the sale of every box of toffee to Dina's Dynasty, the ovarian cancer fund that we have set up in memory of my mom Dina Bray to support UNC Lineberger cancer center."
As Graves began to see more people engaging with her Instagram stories that often contained "tips and tricks and some of [her] go-to recipes," Graves took that feedback and started to put all that information in one spot: her own blog. It's a busy life for Graves, but she has advice wrought from her experience in chasing dreams:
"Pick a couple achievable points where you can start and focus and just be really patient with yourself," said Graves. "Allow your goals to unfold organically and even if your business is something that you want to do for others, you really have to do it for yourself. It has to be something that you love and something that you can dedicate time to every single day. And my best advice is really just to be selfish … be gentle on yourself, and have fun."
You can listen to their full conversation below, and check back every Wednesday for more discussions, more woman crushes and more introductions to some of our community's most incredible women!
---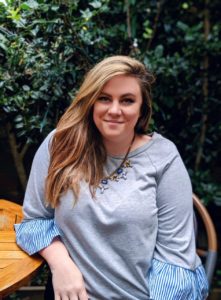 Join 97.9 The Hill's Ali Evans every Wednesday for another edition of "Woman Crush Wednesday," a three-minute weekly recurring segment made possible by Mosaic Comprehensive Care that highlights motivated women and their impact both in our community and beyond.
Podcast: Play in new window | Download