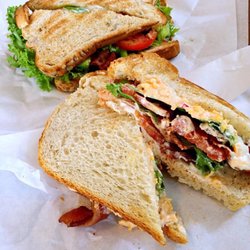 Merritt's Store & Grill serves up BLTs that just might be the best sandwich in North Carolina, but for locals, that's nothing new.
In business since 1929, and Merritt's is the kind of legacy eatery that could only happen in Chapel Hill. A side-of-the-road store that began life as a gas station and made the jump to full restaurant status in 2008, Merritts slings upwards of 700 sandwiches on any given weekend day — and that' not even including the BLTs consumed in UNC's Lenoir Dining Hall!
From pimento cheese to Pepsi, Merritt's tastes like home to many folks from around Orange County. Listen in this week on "This is Tourism" for a conversation between another Chapel Hill institution — WCHL's Ron Stutts — and Claudia Palacios of Merritt's Grill.
---

This weekly segment uncovers the local impact the tourism industry has on our community, told through the stories of the people who make tourism flourish in Orange County. Listen during the Ron Stutts Show every Thursday at 8:40 for a new "This is Tourism" live interview!
Podcast: Play in new window | Download