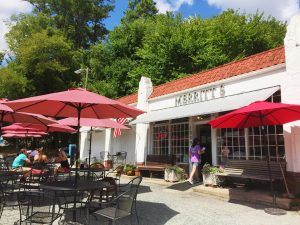 Merritt's Store and Grill in Chapel Hill is known for their famous BLT sandwiches, but that wasn't always the case. Back in 1929, the store was actually a gas station. The original owners, Eben and Ruby Merritt, ran the Esso gas station for almost five decades. The establishment provided gas pumps alongside a small convenience store, and occasionally performed car repairs. A convenient location just south of UNC-Chapel Hill before U.S. Highway 15-501 made Merritt's a natural hangout spot for locals to grab a beer and catch up on news.
In 1991, the business was bought over from the Merritts by Robin and Bob Britt. The new couple continued to run the shop and exposed the grill in the back. Business was not steady, and in 2008, the new owners decided to change things up and make food the focal point — utilizing the grill in the back.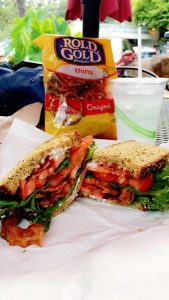 Robin Britt made the very first famous BLT for her husband's lunch one day, never expecting that soon people would be lining up out the door for one. She referred to them as "love sandwiches" – and people sure do love them! The sandwiches were fully loaded with fresh ingredients, and their smashing success helped transform a drab convenience store into a homey local staple that served up southern comfort food. The menu now includes a variety of homemade fixings like sandwiches, burgers and hotdogs — although the BLT sandwich remains by far the most popular.
The BLT comes as a single, double or triple – referring to the amount of layers of bacon, lettuce and tomato. The triple is practically jaw breaking, featuring generous stacks of bacon, lettuce and tomato that Merritt's serves up. You can decide between a variety of freshly baked breads such as the traditional sourdough, marble rye and sunflower. They even have gluten free options available. You can keep your BLT flavors classic or if you're feeling frisky add options such as avocado, pimento cheese and slaw. You would never think simple layers of crispy bacon, lettuce, and tomato smeared with mayo and a dash of salt and pepper could be so delectable.
The BLTs have continued to be in hot demand since their introduction, and Merritt's serves up to 700 sandwiches on a given Saturday in the summer, with wait times sometimes approaching as much as an hour. Merritt's has since been recognized for their mouth-watering BLT sandwich by influential food magazines both on the local and national scale- such as UNC-TV, National Geographic Traveler and Southern Living. People from all over are now making the trek to Merritt's.
The kitchen at Merritt's cranks out other delicious menu items that do not get enough credit, since the spotlight is entirely on the BLT. The Cajun-chicken sandwich, BBQ sandwich, or the Tar Heel favorite Carolina burger (we're talking chili, cheese, slaw, onions and mustard) are all exceptional. Also a townie tip — get the banana pudding! No matter what sandwich you end up with this pudding seriously does not disappoint. If you thought the BLT's were good, just wait until you try Merritt's version of a Southern dessert classic!
Merritt's is a family-friendly place filled with character and endless amounts of crispy bacon. Between the small shop, outdoor space and bamboo forest it's the perfect summer hangout. The store and grill has even introduced events like Banjo's and BLT's — a live bluegrass music performance while you eat! Today, Merritt's Store and Grill is a staple in the Chapel Hill community, and rightfully so.