It's been almost two months and I've had more Zoom calls than I've had in the past two years.
It's a lot. And I'm over it.
I know you are, too.
We've all seen the feel-good commercials showing birthdays over video chat (had one!), connecting with family members, hosting virtual happy hours (been to two), and getting work done through video conference calls.
Even that is overdone.
If you're like me, the last thing you want to do is agree to another video chat.
But for some reason, I've agreed to 7 more this week.
That's because I'm reminded of a time years ago when an old friend reached out to "grab lunch" and talk about my documentary project I'd been posting on Facebook about.
I really didn't want to go. There was no clear agenda, and I didn't feel like driving to Raleigh.
My girlfriend at the time (spoiler alert: married her!) told me to "Just go, something good might come out of it."
That meeting turned into a working relationship that has spanned five years, two films, and countless small projects.
So I try to be open to these opportunities, even when I feel like I don't want to.
Sometimes, we need to just turn it off and I did that this weekend with an escape to the river with my daughter.
But in the past week alone, I've built several new relationships that I'm excited about just because I said "Yes" to taking a quick call, even if there was no clear agenda.
Last week, I joined a call from my friends Justin Minott and Dave Gold, who host The Enlightrenpreneurs podcast, whose attempt was to get like-minded people together to connect and help them create more relevant content for their podcast.
Yesterday, I had an amazing call with one of the attendees who shares my mission of helping others, but in a completely different way (through his financial advising practice).
And now we are in talks about joining forces and he's already bringing me new speaking opportunities.
Last Friday, I gave a virtual presentation to US Sailing, a client I delivered a keynote for last February.  It gave me the chance to get in front of directors of organizations, all of whom potentially needed further help, and I have scheduled one-on-one story coaching calls with five attendees already.
Just last night I got a LinkedIn message from a guy who our mutual friend suggested should reach out to me — for no real reason but the last time that mutual friend did this, the person he suggested I should meet became a guest on my podcast and a fast friend.
So I trusted him again this time and will meet with the person from LinkedIn Monday;
And Friday of this week, I will host a virtual "viewing party" for the cast and crew of my most recent short film.  I had plans to have an in-person party before the pandemic happened and would have preferred that, but when I offered the cast and crew the chance to wait to do it in person or do it virtually, they all preferred to do it now virtually.
I guess they understood the value of connecting now, too.
What I've realized is that true human connection doesn't saturate.
In fact, connection breeds more connection. The more we get, the more we want and possibly even need. This is how we grow our communities.
And if we're connecting for the right purposes, we will never tire of it.
---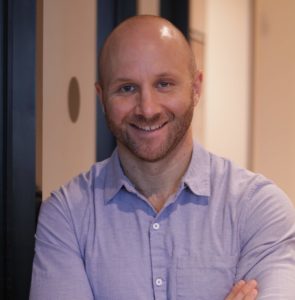 Rain Bennett is a two-time Emmy-nominated filmmaker, writer, and competitive storyteller with over a decade of experience producing documentary films that focus on health and wellness. His mission is simple: to make the world happier and healthier by sharing stories of change.
You can read the rest of "Right as Rain" here, and check back every Wednesday on Chapelboro for a new column! 
---
Chapelboro.com does not charge subscription fees. You can support local journalism and our mission to serve the community. Contribute today – every single dollar matters.