Last week was another long one.
I had two days of work in Chicago, hosted our final "Health and Happiness" storytelling night, dropped a new podcast and spent six hours on the phone Thursday.
But Friday, just as I was rushing to sneak out of town before traffic got bad, a client of mine tagged me in a Facebook post that made me stop, breathe, and feel complete gratitude.
It put a smile on my face — and started off a perfect weekend with my daughter and my mom, while we gave my wife a well deserved break from temporary single parenthood.
(Single parents, I don't know how you do it. MVP status, for real.)
The post was of when I invited the CEO to tell a story about "relationship health" at one of my storytelling nights. I thought the way he conducted his business was perfect to discuss how we maintain deep, positive relationships with our work families.
I've written about their company values here before.
In the post, he talked about all of us being susceptible to creating big "to do lists" and checking off endless items, but this event (the storytelling night) taught them to breathe, enjoy the presence of others, and "relax long enough to take in someone else's story."
But it was extra special to me because I knew it wasn't easy for the CEO to do. It was out of his comfort zone.
He didn't tell me that when I asked him to participate. Instead, he saw it as a chance to intentionally step out of that comfort zone and try something new.
He was vulnerable. He was living his values.
I was both proud of him and proud of myself, for having any part in guiding him through the process.
It made me think: this is what the essence of what "relationship health" should be, right?  A give and take. A mutually beneficial relationship where both parties push each other to be their best.
Why wouldn't we want that with a client/vendor, too? 
That's what I want — in any work that I do or my business does.
What I want to build with another person lasts longer than the project we are contracted to do.
It should be more than transactional. It should be transcendent.
And the way to reach that point in any relationship is to go above and beyond the scope of the project. We need to give value (or extra value) for the sake of wanting what's best for our partner — whether they are reluctant or not.
That doesn't mean being pushy, or not listening to them when they are adamant. But it does mean having their best interests at heart and having a desire to make a lasting impact — on them, as well as the communities they serve.
We have to seek out ways to overdeliver on our products and projects, but mostly we have to overdeliver on our promises.
And when working with someone, as far as I'm concerned, we are making a promise that we will help them do what's best for them, even if it's harder for them, or us.
That is the way to build a relationship with a client that will last.
All business and marketing books will tell you that the best new client is an existing client. So building a lasting relationship with a client should be in our best financial interests, as well.
But for me, it's not just about that (don't get me wrong, it is partially about that.). It's about being with the right client — just like the right partner — one with whom you both grow simultaneously and exponentially because of being in the same sphere as each other. 
It's about creating real change, in each other, and the communities we serve.
It's about growing and helping others grow.
It's about fulfillment.
Featured image via Anna Norwood
---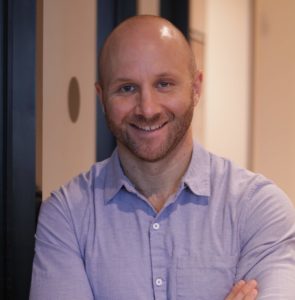 Rain Bennett is a two-time Emmy-nominated filmmaker, writer, and competitive storyteller with over a decade of experience producing documentary films that focus on health and wellness. His mission is simple: to make the world happier and healthier by sharing stories of change.
You can read the rest of "Right as Rain" here, and check back every Wednesday on Chapelboro for a new column!