Welcome to Woman Crush Wednesday!
This week on Woman Crush Wednesday, join Ali Evans for a conversation with Jackie Jenks, executive director of the Inter-Faith Council for Social Service — an organization founded in 1963 that aims to "address the significant gaps that existed in the social safety net of our community," according to its website.
"IFC is responding to the effects of poverty while we're also confronting its causes," said Jenks. "As you probably know, we're a primary provider of safety net services in the community — offering meals, groceries, shelter and support services and housing for thousands of our neighbors each year."
The IFC was begun by seven women local to Chapel Hill and Carrboro, and is a not-for-profit non-denominational social service organization with a small staff that depends on volunteers and donations to continue providing basic services to combat poverty, hunger and homelessness in our community. As executive director, Jenks has a vital role in making sure that IFC fulfills its purpose.
"I'm proud to follow in the footsteps of women who saw a need and responded to it so many decades ago," said Jenks. "The only choice they had in the face of poverty then was to join together, pool their resources and do something about it … we're still grappling with some of the same issues because, to be honest, we know how to end homelessness and food insecurity. We have to come to a common understanding as a community about how we got to this point so we can do the hard work to turn it around."
You can listen below for the full conversation between Ali and Jackie below  — and check back next Wednesday for another introduction to some of the most amazing women in our community!
---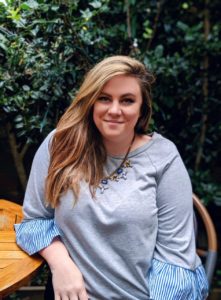 Join 97.9 The Hill's Ali Evans every Wednesday for another edition of "Woman Crush Wednesday," a three-minute weekly recurring segment made possible by Mosaic Comprehensive Care that highlights motivated women and their impact both in our community and beyond. If you'd like to nominate someone to be featured on WCW, email ali@wchl.com
Podcast: Play in new window | Download