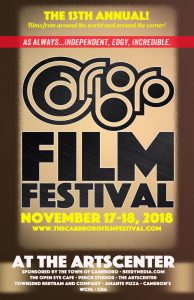 The Carrboro Film Festival, first screened in 2006 and going strong for 13 years, is happening soon! The two-day celebration of art in film is taking place on November 17 and 18 this year at the Carrboro ArtsCenter.
Over the years, the Carrboro Film Festival has grown into a premiere art festival that just so happens to call Carrboro home. Showcasing eclectic, interesting, powerful, humorous, moving and finely curated selections, the CFF's motto of "art, not business" rings true — especially when trophies sculpted by local artist Mike Roig are handed to winners.
On today's "This is Tourism," Ron is joined by Nic Beery, co-founder of CFF and head of Beery Media — a multiple award-winning full service digital film production company. Join them as they talk about media, film, art and what the CFF brings to town each year.
Podcast: Play in new window | Download