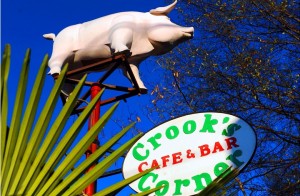 Crook's Corner may be under new management, but that doesn't mean the good food and good times at the storied Chapel Hill institution are coming to an end.
For over 25 years, Crook's Corner has been serving up Southern food that started small-time but eventually ascended to "best-of" lists nationwide. Chef Bill Smith designed and prepared the kind of food on the corner of Franklin and Merritt Mill that kept customers coming back and made Crook's Corner one of "America's Classics," according to the James Beard Foundation.
On today's edition of "This is Tourism," join WCHL's Ron Stutts in a conversation with Shannon Healy, the owner of Alley Twenty Six in Durham and one of the partners who took over ownership of Crook's Corner. Listen to the full interview below, and hear about everything from the current Crook's Corner partnership that also includes Chapel Hill legend Gary Crunkleton to the high-profile modern culinary flair that new chef Justin Burdett has brought to the restaurant.
---

This weekly segment uncovers the local impact the tourism industry has on our community, told through the stories of the people who make tourism flourish in Orange County. Listen during the Ron Stutts Show every Thursday at 8:40 for a new "This is Tourism" live interview!
Podcast: Play in new window | Download