Welcome to the fourteenth edition of 97.9 The Hill's Staff Picks!
For this round of Staff Picks, we asked our staff to give shout-outs to the local businesses that make us feel lucky to live in our area. These picks cover all of our favorite local hangs, from the coziest cafés and breweries to the coolest concert and movie spots.
You can share your own local faves with us at chapelboro.com/luckytobelocal to be entered to win a collection of great local prizes! Then, share your local picks with us by tweeting us at @WCHLChapelboro or tagging us on Instagram!
---
Ali Evans, Senior Account Executive
Favorite place to buy local food: Broken Spoke Farm
They're located in Hillsborough, with a farm stand & fresh soft serve on the weekends. They announce the soft serve flavors ahead of each weekend, so it's something new and fun each time. It's so peaceful and beautiful, and the food is delicious. We love it out there!
Favorite places to get a beverage: La Vita Dolce, Market & Moss
I have two, but they are sister restaurants owned by the same person, so it counts. La Vita Dolce and Market & Moss, both located in Southern Village, do just about everything right when it comes to food, beverage and vibe. Check them both out for everything from gourmet coffee, an impressive wine list, and unique cocktails crafted by their lovely staff.
Favorite woman owned business: Arete Float Tank Studio
I know – I literally will not shut up about this place, but it checks all the boxes for me. Relaxing, peaceful, beautiful, and thoughtfully operated. Floatation therapy isn't for everyone, but they also offer massage therapy upstairs in their "tree-house" that is a really nice way to treat yourself. Also, the owner's dog Newton is usually there and while I'm unclear of the details of his salary/benefits, he deserves a raise regardless.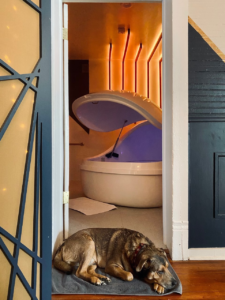 Aaron Keck, Host, This Morning with Aaron Keck
Favorite place to maintain a car: F&F Automotive
Whenever I'm reading the sponsor spot for F&F Automotive in Carrboro, I always add that I take my car there too. "Do you really?" people ask. Yes, 100 percent. I've been to several mechanics in the area, and F&F is the one I recommend to everyone.
Favorite local nonprofit organization: SKJAJA
There are a ton of fantastic nonprofits in our area too, but my personal favorite is SKJAJA. It started with one family wanting to do something for charity, and it's grown over the last decade into an organization that's helped hundreds of local kids pay for extracurricular activities like music lessons, sports, summer camps, afterschool tutoring, and more. (And the kids pay it forward with community service projects, so everyone wins. I love nonprofits that come up with win-win ways to do several helpful things at once.)
Favorite restaurants: Hawthorne & Wood, Market & Moss
So many great restaurants in our community! There are two newer ones that I want to shout out, though: Hawthorne & Wood in East 54, and Market & Moss in Southern Village. Both fantastic places with great food, great drinks and great people, both with terrific patios for outdoor dining. Hawthorne & Wood has been especially conscientious about COVID safety, so Brad and I have made them our go-to whenever we've gone out in the last six months. Try the General Tso's cauliflower at H&W, and the chorizo flatbread at M&M if they have it. (The photo is from our first trip to Market & Moss – they actually opened during the pandemic, so they're also one of the newest spots in town.)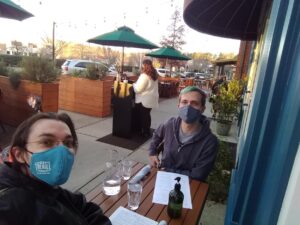 Anna Griffin, Art Director
Favorite place to get dessert: Maple View Ice Cream
I actually go here specifically for the chocolate milk. Of course the ice cream is amazing, but a glass of their chocolate milk just screams summer for me. I've been picking up a half gallon here ever since I was a kid, so now at 24 years old it just reminds me of growing up in our community!
Favorite place for family entertainment: Varsity Theatre
Totally not biased for having worked here for four years in high school and college… The most adorable, vintage little theater around town! Definitely a town classic. Lots of fun memories with coworkers and watching some great films.
Favorite place to get a beverage: He's Not Here
Nothing beats a Blue Cup. College would not have been the same without getting a beer with friends on Wednesdays after class on a nice day. UNC wouldn't be UNC without He's Not Here! My friends and I have all accumulated plenty of the blue bad boys over the years – perfect for stacking in a blue pyramid on game days. Can't forget the pink ones in October, too!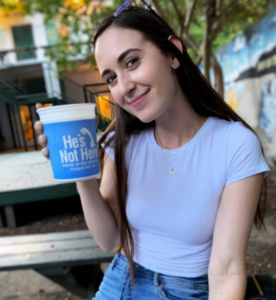 Elle Kehres, Assistant News Director
Favorite retail store: Rumors
I love a good thrift shop and Rumors always has a great array of clothing and accessories. Plus, their operations have been super safe during the pandemic and I've loved their transition to selling a lot of items through Instagram. As a bit of a clothes fanatic, I appreciate that I can sell my gently used clothes there and restock with a bunch of trendy items! Also, not only is this business woman-owned, anything they don't buy from you, they go ahead and donate on your behalf which is awesome.
Favorite place to get a beverage: The Oak House
My favorite place to get a beverage is also one of my favorite places in Durham: The Oak House. Whether you are looking for good whiskey, wines or coffee, this place has you covered. There's a bunch of comfy seating, the staff is always amazing and in pre-pandemic times they would often have live music. I like to frequent this establishment to or from perusing a local bookstore in downtown Durham.
Ava Pukatch, Reporter
Favorite restaurant: Carolina Coffee Shop
Carolina Coffee Shop is probably my favorite restaurant on Franklin. I love stopping in for a coffee or getting brunch with my friends and family when they're in town. Pre-COVID I loved meeting up with friends there to study during the afternoon after classes. Everyone there is super cheery and nice.
Favorite place for health and wellness: Purple Bowl
Purple Bowl is my favorite place. I meet up outside with friends for Saturday morning breakfasts and love all the options available for trying in smoothie bowl land. I also love that almost everything is compostable so we can help save the environment.
Brighton McConnell, News Director and Host of News on the Hill
It's so hard to pick "favorites" in our community, because we have so many great spots and I have so many places I frequent…but I want to share some of the routines I developed during the pandemic and other things I can't wait to do when we safely can again!
I've probably done more picnics in the last year or so than I have in the rest of my life combined. My routine is to pick up food from either Linda's Bar & Grill or Hawkers and to find a spot on UNC's campus to spread out. I've always loved taking time to enjoy flowers in the Coker Arboretum or just finding shade under a tree at Polk Place. Trips to Maple View Farm for some fresh ice cream have also served as a good pick-me-up on days when the pandemic has gotten me down!
I'm really looking forward to returning to other favorite places in the coming months, like He's Not Here for drinks, Cat's Cradle for live music and the Chelsea Theater or Silverspot Cinemas for films. As our community has supported many businesses during the challenging past year, I hope the plans are to support them heavily in the coming years too!
Nicki Harris, Account Executive
Favorite restaurant: Cham Thai
Moving to a new place in a pandemic is definitely a once in a lifetime experience. And it also means I can only judge restaurants here by their takeout experiences. But Cham Thai's have been top notch. Their dishes have been able to satisfy my boyfriend's insane spice tolerance and his requests for extra hot while still being quite enjoyable for my more human spice tolerance.
Favorite place to get a beverage: Craftboro
Whether or not they actually do, the owner always acts like he recognizes me which makes me feel like a cool regular at my neighborhood bar. They have great, socially distanced outdoor seating with heaters, and you are always allowed to bring your own food to eat there!
Favorite place to buy local food: Carrboro Farmers' Market
I must admit I am that girl who really loves the farmers' market. I especially like the one in Carrboro because it's big without being too overwhelming. They also have a wide array of vendors offering things from produce or premade soups to pottery and work working items. It's always busy no matter the weather which makes it have great energy and really feel like a community destination. The Carrboro Farmer's Market also has great COVID protocols, having all patrons walk through in one direction.
Jack Carmichael, Programming Assistant
Favorite place to get a beverage: TRU Deli & Wine Bar
TRU on Henderson Street in Chapel Hill is a great deli, a great bar, and a great spot to hang. They have fantastic sandwiches made to order, top notch brews and cocktails, and an even better atmosphere. TRU is the ultimate spot to watch the game, have a casual afternoon meetup with friends, or celebrate the end of a long week on a Friday night. I'm looking forward to spending more time on the TRU rooftop patio very soon as more people get vaccinated.
Favorite local nonprofit organization: TABLE
TABLE has been providing food aid to children in need in Orange County since 2008. In wake of the COVID-19 crisis, the work that TABLE does in our community has been more important than ever. If you're looking for a charitable cause to support, TABLE is a fantastic nonprofit, and any amount you can contribute helps to make an impact.
Kenny Dike, Billing, Broadcast Traffic and Sales Operations Manager
Favorite place to get a beverage: Yonder Southern Cocktails & Brew
Located in historic downtown Hillsborough a couple footsteps west of the Churton and King Street intersection, Yonder Southern Cocktails & Brew has quickly built a reputation as a very popular neighborhood pub, art gallery, live performance and music venue. On the exterior, the main door is adorned with iron gas lanterns that give the place an almost 'New Orleans' look, and as you enter, the main room feels larger than it actually is. It kind of has the appearance that the building was once a 1930s/1940s era bank, like the ones you would see in old movies on a main street in a small town, but now with a modern charm. Immediately to the left is the ground level stage for nightly performances, including local bands, an open mic night , improv and book readings. The walls wrapping around the room are filled with a display of up to 50 pieces of art from local artists, for view and sale, that updates monthly. Set against a floor to ceiling brick wall on the right side of the room, sits a giant beautiful bar, where the owners spend most of their time pouring craft brew, slinging southern cocktails, and more importantly, making friends and telling stories with the patrons. Not a restaurant by license, Yonder is very creative with the 'snack offerings' with the favorites being charcuteries boards, locally baked cakes, and the ever popular cheese puffs served in a brandy snifter! All of this is great, but what truly makes Yonder special are the owners and managers, wife and husband, Lana Pierce ad Eryk Pruitt. A dynamic duo of real estate and fiction writing, and formerly serving as managers of King Street Bar in the same location, in 2019 they purchased the establishment and re-opened it as Yonder, a word that is a favorite of Eryk's, omnipresent in his southern noir films and novels.
Whether it is your first time there, or you go all the time, they will immediately make you feel safe and welcome, and their passion and care for the place shows in every detail including the fantastic local art that is procured by Lana – one local artist named "Gordon" told me "the big secret about this place, is it is the best art gallery in the triangle."
Due to COVID restrictions, they have opened a beautiful patio out front, where you can safely enjoy views of the charming village of Hillsborough while sipping on any of their southern cocktails and enjoying live music on Friday and Saturday evenings.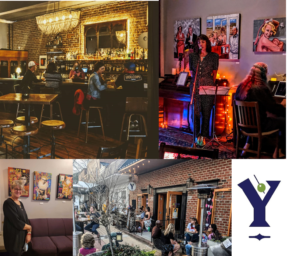 Let us know about your own local faves at chapelboro.com/luckytobelocal!
Check out the last edition of 97.9 The Hill's Staff Picks here!
Learn more about 97.9 The Hill's great staffers on our 'Meet Our Staff' page here!