Last week, I landed at RDU after a quick and cold trip to Iowa City.
I was on day nine of a ten day road trip for work.
As I landed, my phone buzzed with several notifications for emails, texts, and voicemails.
One of the messages was from an Los Angeles number.  And when you're in the filmmaking business, you always want to check those messages.
It was a producer from Participant Media — a production studio responsible for several award winning feature films and documentaries in the past few years.
Specifically, they produced a movie that was released last year called "Dark Waters," which was the reason they were calling.
"Dark Waters" tells the story of a corporate environmental defense attorney (played by one Mark Ruffalo) who risks his career and family to uncover a dark secret hidden by one of the world's largest corporations — DuPont — and to bring justice to a community dangerously exposed for decades to deadly chemicals.
Participant was coming to North Carolina with Mark to screen the film, meet with some locals, conduct some press conferences and, most importantly, bring light to the issues the film addressed. And though the film was told the story of DuPont in West Virginia, the matters hit close to home to many people in North Carolina.
DuPont's chemical plant in Fayetteville made GenX, a chemical used in the process of making polymers for making cookware, non-stick coatings, laptops and cellphones, and more, which was discovered in the Cape Fear River in 2016.
Already I was on board with the content — my company focuses on projects that encourage and support health and happiness and that completely includes environmental health. Secondly, just about everyone I know has a crush on Mark Ruffalo. 
Myself included. I mean, he's the Hulk!
So while I was furiously jotting down notes about the job in my Uber home from the airport, I paused.  "Wait, how did you say you found me?"
"We're working with the North Carolina Conservation Network on this and they recommended you."
I racked my brain. 
Who did I know? Who did I know from NCCN?
Then it dawned on me.
A few months ago I hosted Brian Powell, the communications director on my show, The Storytelling Lab.  We had a great conversation, on that brought me to tears, actually, on telling the stories of those suffering from environmental injustices (many of whom are in my native eastern North Carolina).
Brian and I had made a connection.
But we hadn't worked together and we really didn't know each other that well.  But that initial connection and understanding that each other "got it," he knew that I would be perfect for the job.  
To be fair, Participant checked out our work and were happy to hire us, but I know it wouldn't have happened without Brian.
I didn't know if I'd ever talk to Brian again, honestly.  I hoped I would. I hoped one day my company and NCCN would embark on a documentary series that would win Emmys and be seen all over the world.  But I could also see us going about our lives and our paths not having the chance to cross again.
When I saw him last night, I asked, almost rhetorically, "Are you the reason I'm here?"
He shrugged and said with a smile, "I might be."
What a great guy.  I thanked him sincerely.
But more importantly, what a great example of why it's important to make good impressions and make authentic connections with people.
You never know when they will come back to help you.
Mark was a class act and the night was powerful.  He spent hours talking to folks whose families have been affected by these toxic chemicals in their drinking water — some of them children with kidney cancer.  
I didn't know until last night that Mark was the one who read about this story and made the film happen.  This is a man who truly lives into his values and walks the walk. He's one of the good guys not afraid to stand up and fight.
Just before they screened the film he said, "We are at a time where we are all disconnected and angry and hurting. And the only way to fight back against this is to come together as a community. And the way I try to make that happen is by storytelling and sharing those stories."
For someone like me, and what I do, this was more than powerful. It was inspirational. It was a project I was incredibly proud to be a part of.
And it all came from me inviting a guy on my podcast to talk about storytelling. 
---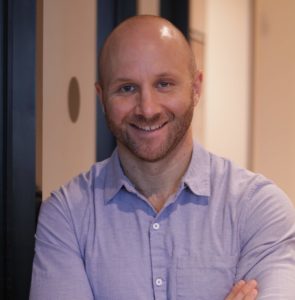 Rain Bennett is a two-time Emmy-nominated filmmaker, writer, and competitive storyteller with over a decade of experience producing documentary films that focus on health and wellness. His mission is simple: to make the world happier and healthier by sharing stories of change.
You can read the rest of "Right as Rain" here, and check back every Wednesday on Chapelboro for a new column!