Join Aaron Keck Tuesday through Friday at 6:00 p.m. for "Live & Local," where you'll hear music from artists close to home, and even get the chance to listen in as local musicians talk about where they've been, where they're going, and what's happening in the local music scene.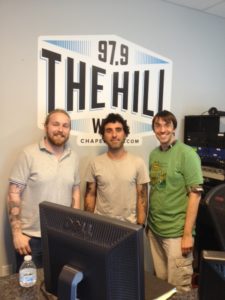 The Shakori Hills Grassroots Festival of Music and Dance, taking place this weekend in Pittsboro, is a local fixture, and a twice-yearly haven for locals and visitors alike that offers great music, good food, amazing art and the kind of community and down-home friendly hospitality that only North Carolina can provide.
This time on Live & Local, Aaron Keck is joined by Grant Golden and Chris Frisina to talk local music and the happenings at Grassroots this year. Golden is part of the team that makes the festival possible, and Frisina is one of the featured performers taking the stage over the weekend. Frisina's particular brand of Americana — complete with multiple stringed instruments and voices in harmony paired with thoughtful lyrics and a smooth, easy-listening feel that makes listeners feel right at home — is an exceptionally good fit for the festival at Shakori Hills, and you can listen below to hear three songs performed live in the studio as part of Live & Local!
Segment 1: "Deepest Darkest Blue"
Segment 2: Talking Shakori Hills with Grant and "Carnival Cruise Talkin' Blues"
Segment 3: "Fences"