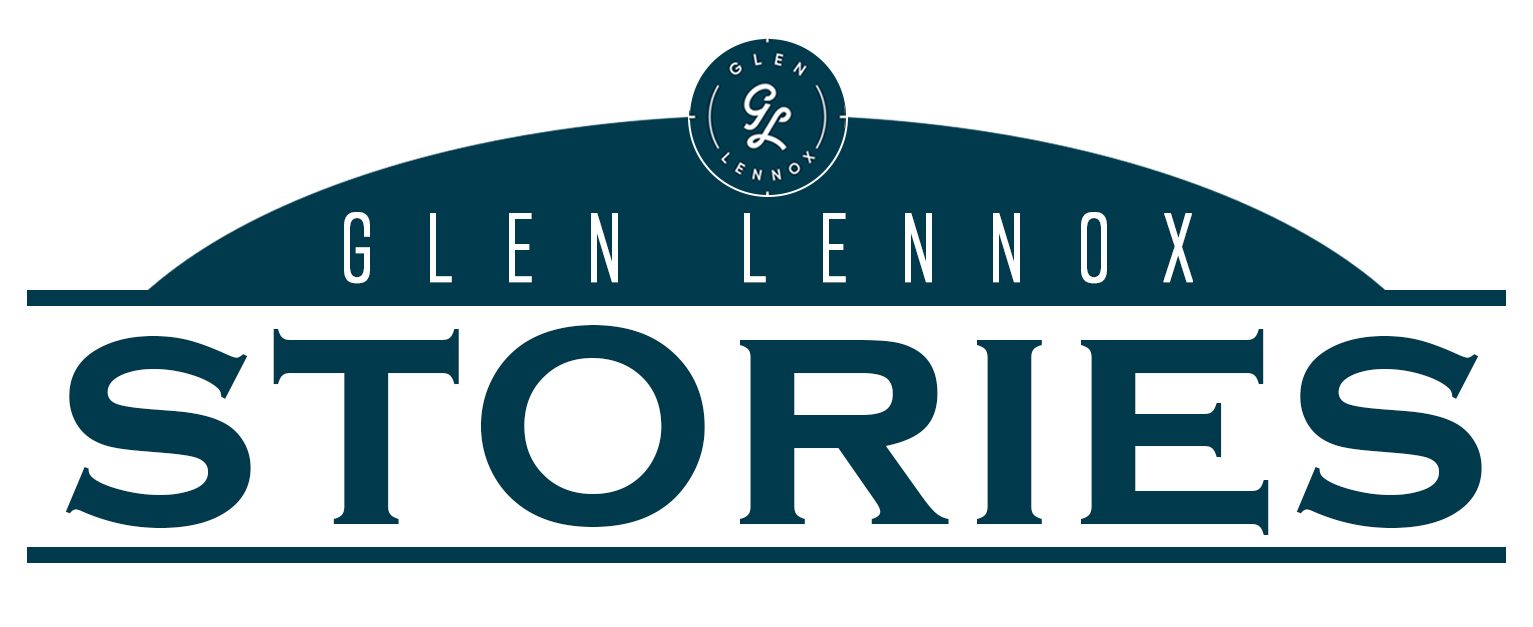 Bland Simpson's life well-lived began to take shape when he moved to Chapel Hill at 10 years old with his mother and two younger sisters.
Now 70 and a decorated professor of creative writing at UNC, Simpson's life as a musician, songwriter and composer took him to Broadway and back — while his writing career led him to author seven books with UNC Press. He found fame with the Tony Award-winning string band Red Clay Ramblers and recaptured contentment in rural Orange County with his wife Ann — an accomplished photographer — along with a family of three grown children.
But it all congealed in Glen Lennox, where the real-life Simpsons settled into a three-bedroom apartment at 24 Flemington Road in the summer of 1959. Bland's first 10 years were spent in Elizabeth City exploring Albemarle Sound, which he has continued to recall in his writing.
The baby boomer era left his new Chapel Hill neighborhood teeming with kids who played football, basketball and softball on adjacent fields and courts, flew kites and watched the constellations from their bedrooms at night. By day, they  adventured to the pre-Harry Potter mysteries of Gimghoul Castle, frolicked through the DuBose farmland (now Meadowmont) and raced across the Mason Farm Biological Reserve behind Finley Golf Course. "That's a lot of wild terrain and all five-minute bike rides from Glen Lennox," Simpson said.
"Mark Phialas, whose father was a Shakespearean professor at UNC, and I were great friends," Simpson recalled. "We played basketball on a clay court that had some roots from an old oak tree where the paint would have been. So quite frequently, you lost a dribble by smacking the ball off one of those roots and out of bounds."
"Mark was, and still is, a good foot taller and towered over me," continued Simpson. "He would block any shot I took to the basket. My only chance was to pattern my game after York Larese, who was on Frank McGuire's last teams at UNC. York was a classic shooter; don't think he ever missed a free throw with his two-handed push shot. He also mastered the long shot, which would be a three-pointer today. I got okay at it and was the only chance I had against Mark."
Also in Simpson's flock of friends was Wayne Williamson, whose father Ernie ran the Educational Foundation or Ram's Club, and Tommy West, whose dad was in charge of the Monogram Club in the same building that is now the admissions office at UNC.
"It was a joyous place to be," Simpson said with a faraway look. "I went to sixth grade at Glenwood School right across route 54. I remember flying kites from Flemington Road over some tall pecan trees and studying the stars at night with my star charts. We would hear on the radio when the first Echo satellites were coming over and I sat out on the back stoop and watched them slowly move across the sky. I got fascinated with that."
On Saturdays in the fall, during UNC football games, Simpson took his transistor radio outside and punted the football in his backyard as the Tar Heels took the field. On summer mornings, he chased the milk truck to get a block of ice. After school, he rode his bike up to the Glen Lennox Shopping Center and picked up something for dinner at the Colonial grocery store.
"It was a nice 20-minute errand that made one feel responsible and independent," he said. "Bin 54 now was the Dairy Bar and JuJube was the laundromat. George Harris had his pharmacy up there and a bank was tucked away."
On spring weekends, Bland and his buddies rode across to Finley, caddied in the morning and made enough money to play a round of golf in the afternoon.
Music came as a teenager, trying the trumpet, strumming a guitar and learning the piano at his aunt and uncle's home on Greenwood, also just up the road. Simpson earned some spending money by delivering the old "Chapel Hill Weekly," a route that took him from 75 to 90 minutes, depending on who stopped him to chat as he slung the Wednesday and Sunday editions to their doorsteps.
At 16, Simpson readied for Driver's Ed by practicing in a friend's Jeep that had the same three-speed stick on the column as the Chapel Hill High Chryslers, using the small slopes at the back of Glen Lennox to pop the clutch if the Jeep stalled out. His teacher was the legendary coach of all sports, Bob Culton, who asked Simpson's driving partner, "Would you trust Bland driving if I wasn't here? Because I wouldn't."
Simpson enrolled at Carolina in the summer of 1966 and moved into Mangum dorm, where it was so loud that he went home to Glen Lennox for the spring semester before renting off-campus housing for this next three years. By then, he was a burgeoning playwright, eventually teaming up with fellow UNC graduate Jim Wann to form the unique Southern States Fidelity Choir, a regular at the old Cat's Cradle on Rosemary Street.
Together, they wrote and produced "Diamond Studs," birthing the career of actress-singer Cass Morgan, which was honed in local performances in Chapel Hill and made it to off-Broadway in 1974 to begin a national tour. That led to Simpson joining the Red Clay Ramblers on keyboard and traveling the world with the renowned band. Simpson's other plays include "King Mackerel And The Blues Are Running." He also wrote a song for Wann's Tony-nominated "Pump Boys and Dinettes."
In 1986, with young children at home, Simpson said goodbye to the road and returned to teach full-time at UNC. His mother, Dorothy, still lived at Glen Lennox, where she kept their apartment until just before her death in 2010.
"Glen Lennox is a great piece of Chapel Hill and helped satisfy the post-war housing," Simpson said, full of memories. "It raised a lot of baby boomers and I still have students whose parents and grandparents lived there, including one whose grandfather was a surgeon at UNC and saved my little sister's life."