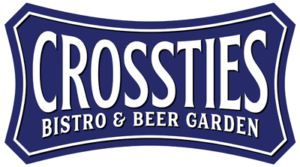 CrossTies Barbecue is now CrossTies Bistro & Beer Garden, and that name change reflects a shift in how the local institution will continue to be a part of the local food and nightlife scene.
The same acclaimed mesquite brisket, hickory pulled pork and ribs — along with the locally famous Cubano and Chicken & Herb dumplings — are all still on the menu, but the new CrossTies also features more vegan and vegetarian options alongside a selection of newcomers from smoked salmon and lobster rolls to pork belly pastrami.
"We're excited about this evolution of CrossTies and the new bistro and beer garden concept," said owner Andrew Moore, who also owns neighboring Venable Rotisserie Bistro, B-Side Lounge and The Station. "The smoker is still running and many of the new items on the menu will kiss the fire, but we're now serving more fresh seafood and American comfort food with our own creative twists."
Some of the vegetarian options include marinated tofu "scallops" served over seasonal veggie grain risotto and a vegetarian Po'Boy filled with buffalo cauliflower. Many menu choices are in the $10-$20 price range as well, keeping CrossTies affordable.
CrossTies was originally opened in 2016 in the former Carrboro Railways Station, once the home of the Greensboro-Durham Southern Railway Line. Passenger cars from the trains still serve as dining rooms and kitchen space, and the new additions coming with the "Bistro & Beer Garden" name mean more renovations that include more dining room seating and a large outdoor space perfect for consuming craft beers, carefully selected wines and house-made cocktails — all still served on the tracks CrossTies fans know so well.
"It's a magical space with its history and character," said Moore. "We think this shift in concept will open us up to more diners, families and those looking for a relaxing place to grab a bite or a drink."