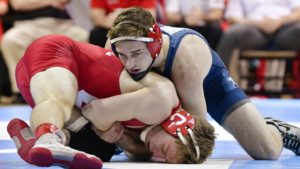 This past Saturday saw the UNC wrestling team take third at the ACC Championships in Blacksburg, while having a total of six Tar Heels earn bids to the upcoming NCAA Wrestling Championships.
Redshirt freshman Austin O'Connor (149 pounds) and senior Cory Daniel (heavyweight) each finished second in their respective weight classes to represent UNC's top finishers in the individual competition.
Joining O'Connor and Daniel in earning their place in the national tournament were: Gary Wayne Harding (133), A.C. Headlee (141), Chip Ness (184) and Brandon Whitman (197).
Each of those other four wrestlers lost in their third-place matches and took home fourth in their weight class.
The 2019 NCAA Wrestling Championships will be held in Pittsburgh beginning March 21.
Photo via UNC Athletics