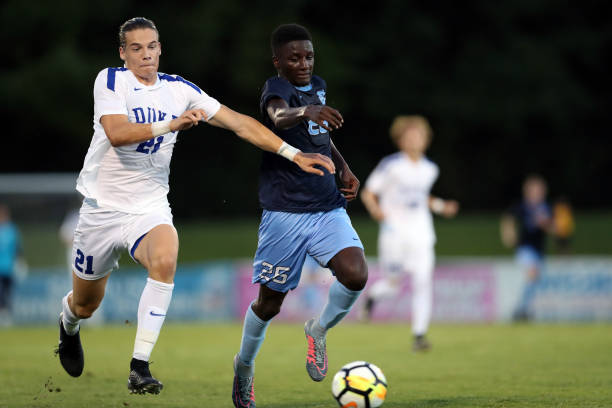 When Duke's Issa Rayyan found the back of the net in the 87th minute on Wednesday night at WakeMed Soccer Park in Cary to tie the match at 1-1, it appeared that the eighth-ranked Blue Devils had seemingly forced overtime against No. 4 UNC.
Tar Heel senior attacker Jelani Pieters had other ideas, however, scoring less than 30 seconds later to give UNC a 2-1 victory in the ACC Tournament Semifinals.
Pieters' goal punched the Tar Heels' first ticket to the ACC Championship Game since 2012 and served as the difference in a match that was extremely close throughout the entire night.
UNC spent most of the match trying to hold on to a 1-0 lead it created when Giovanni Montesdeoca scored on a deflection resulting from a corner kick in the 29th minute.
The Tar Heels out-shot the Blue Devils 4-0 in the first half, but the action picked up considerably in the second half with Duke becoming more and more desperate for an equalizer.
Duke ended the match with 10 total shots as it became more aggressive later on, but it was unable to find an answer for Pieters' heroics over the final three minutes.
Up Next:
As a result, it'll be the Tar Heels who move on to the ACC Tournament Final to face Louisville this Sunday at noon.
Photo via Andy Mead (Getty Images)