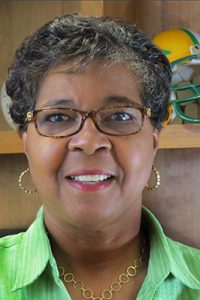 Que Tucker, Commissioner of the North Carolina High School Athletic Association, has dedicated her life to serving the students of North Carolina. She's spent time as a teacher, a coach and her career at the NCHSAA spans well over two decades.
Since 2015, Tucker has been in charge of the 417-member school Association that is responsible for governing interscholastic athletics, including State Championships, for North Carolina's public and non-boarding parochial high schools.
The NCHSAA was started by a proposal from UNC Professor Dr. Louis Round Wilson, who approached then University President Dr. Francis P. Venable about starting a university Extension Division to start a high school athletic association to help standardize regulations and ensure fairness. The initial budget of the Extension Division was $600, with a third of that going to beginning the Association.
Podcast: Play in new window | Download