While not a reliable home for a white Christmas, North Carolina is well-known for a variety of other weather patterns. From hurricane season to hot summers, the Old North State never fails to surprise with weather variations between the mountains, the Piedmont and the coast.
In fact, this year, Hurricane Florence shattered the previous record for rainfall from a single storm with a staggering 30.58 inches recorded in Swansboro. That follows, when you consider hurricane season and the weather we've seen in NC before, but it may surprise you that our record snowfall from a single storm is over five feet!
Recorded in the Great Smoky Mountains National Park in April of 1987, the record for highest snowfall from a single storm in North Carolina clocks in at 60 full inches. Even that number, however, pales in comparison to records set by another storm — a bigger storm.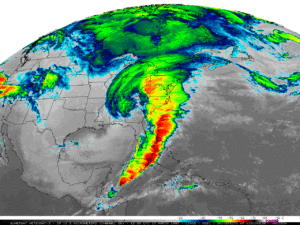 The record for greatest snowfall over a period of 24 hours in North Carolina was set at Mount Mitchell in March of 1993. With 36 inches of snow falling in just one day, coming from a storm system referred to as "the Storm of the Century," "The '93 Superstorm" or even "The Great Blizzard of '93." One storm system stretched from Honduras to Canada, setting snowfall and low temperature records across the continental United States. The storm affected roughly 40 percent of the United States population, leaving more than 10 million homes without power and causing over 200 deaths.
For comparison to those record-setting numbers, the average snowfall in the Piedmont is nine inches a year.