Well, it's officially 2019, so cue the gym memes of over-packed gyms in January becoming barren wastelands in February — which are now just as stereotypical as the New Year's Resolutionists who abandon their "new me" mantras so quickly.
Whether we mock them or not, setting new goals without taking the time to establish the habits is challenging for all of us.
I, like most people, used to set New Year's resolutions. When I started my self work several years ago, however, I employed a new process.
I would go through the past year and make a list of "wins" and "losses" — or, basically, what I considered accomplishments and failures.  Then, I'd make a gratitude list of those people who contributed to my wins and a goal list for the next year divided into three categories: personal, work and health goals.
Ultimately I abandoned the "losses" aspect because I didn't want to dwell on the negative. This year, I did the gratitude and goal list, but then created a new, two-column page.
I drew a line down the middle of the paper and put the symbol of a sun and a cloud on the left and right sides, respectively.  The sun represented things that made me feel happy and fulfilled, things that moved me closer to my goals. The cloud was for things that caused me stress or anxiety, or held me back.
You could simply label these as "positive" and "negative."  Then, I went through, month-by-month and listed the major things for each category.
Tim Ferriss, one of the first people to inspire me to make changes in my life, uses a similar technique.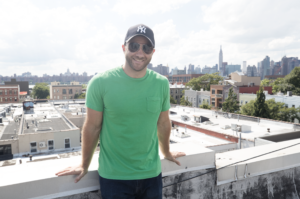 When I look at the list, I simply try to do more of what's in the left column in the next year and less of what's in the right column.  I especially focus on those that caused a peak reaction.
Tim says it's not just enough to stop doing the negative stuff, we must also schedule the positive to make sure it happens.
Last year was a peak year for me and I learned several lessons I will take with me into 2019.
Here are a few.
THE MORE YOU GIVE; THE MORE YOU GET.

 This is ageless wisdom that is so simple of a recipe, I thought it was just a feel-good slogan.  It's so true. The

more

you make your life about other people, the more blessings will come your way. Try it.  

Really

try it.  And even in small gestures, giving gives you a deep feeling of happiness.

SPEAK FROM THE HEART.  

If you are humble and honest, people will listen to what you are saying.  Even if you're wrong. Humility is the key part to that. We are all human and make mistakes, but keeping it real is something to be respected.  Don't say what you think they want to hear. Speak your truth, but do it wholeheartedly.

PAY YOURSELF FIRST.  

Saving for a rainy day is not just a baby boomer motto for people who had parents that lived through the Great Depression.  Sure, we "can't take it with us" and I am a big proponent for wanting to live the life I want to live and being willing to pay for it.  But saving is how you

stack

and compound interest is a real thing.  I used to think I'd have plenty of time to make money, but if I could tell 20 year old Rain anything, it would be to save money.  36 year old Rain would thank him. A lot.

MAKE A PLAN; PLAY THE LONG GAME

. Boy, I was the type of guy to "wing it" my whole life.  But this year I got so pumped at seeing the results of a long laid out plan that I ain't ever going back.  I also realized that wanting it to happen fast won't get me anywhere. I have to do the work, be persistent everyday and every week.  But even that isn't enough if I don't know where

exactly

I'm going.  Now, I always focus on the goal

behind the goal

.

SHOW UP FOR PEOPLE.  

Mental health is a real issue and it's a spectrum we all exist on somewhere.  But it's not just enough to tell people "you're there for them." We have to

show up

for those we love and make space for them and their struggles.  Stop making it all about us, even when they hurt us. Brene Brown asks us to ask ourselves: "What if that person is doing their absolute best?  How would that make you feel?" If you have a heart, you'd probably feel sad and more compassionate. But it's

easier

for us to get mad than sad.  Don't do that. Do the hard work.  Show up.

HOP BACK ON THE TRAIN

.  It's so easy to get discouraged when we "fall off" of a plan or process,

especially

when we were making good progress.  But so often we get caught up in the short-term metrics instead of the long-term, which is what counts.  As long as we are "trending up," in the

big picture

, we are heading the in right direction.  Don't let little discouragements knock you off your path.  Every day, every hour, every minute, is another opportunity to hop back on the train and keep going forward.  
In 2019, I have a request of myself and anyone reading this:
Don't make yourself a cliché and create random resolutions you can't stick to.  Openly and honestly take a look at everything you do and evaluate them like a job review.
And then just do more of what makes you happy.
That will make you successful.
---
Rain Bennett is a two time Emmy-nominated filmmaker, fitness professional, public speaker, and writer. His mission is simple: to help people realize that they too can be great, no matter where they come from or what they start with. It just takes passion, persistence, and a plan.
Bennett directed and produced his first feature length documentary in true indie fashion by traveling the world with only a backpack and a Canon DSLR camera. That film, Raise Up: The World is Our Gym won "Best of the Fest" at the Hip Hop Film Festival NYC and received global distribution through Red Bull Media House. He's been featured in publications like Men's Health and Sports Business Global and is a regular contributor to Breaking Muscle. When he's not making movies or training clients at Sync Studio in Durham, he's hosting a new webseries called The Perfect Workout Show.