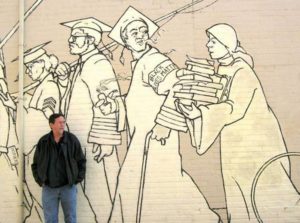 On this week's edition of "This is Tourism," join WCHL's Ron Stutts in a conversation with Michael Brown — an artist, community activist and man-about-town beloved by many residents of Orange County for his work on some of the spectacular murals painted on dozens of walls in our community.
According to Brown, an estimated 2.5 million people visit Orange County, with a high percentage of those being repeat visitors. The visible, local art found across Orange County towns is a point of interest and attraction for visitors and residents alike — everything from public statues and murals to gardens and gatherings all contribute to the feel of a community. The more available the art, the more engaging the visit!
Because of Chapel Hill and Carrboro's wide variety of murals and art installations, the Visitors Bureau has developed an app that includes a guide for a Mural Walk, along with a printed guide to local murals and a page on its website dedicated to the artform.
Visitors might not cite art as a reason for their visit, but they expect it in a college town when they arrive.
Listen below for the full conversation between Ron and Michael, and tune in next Thursday during the Ron Stutts Show for another edition of "This is Tourism!"
---

This weekly segment uncovers the local impact the tourism industry has on our community, told through the stories of the people who make tourism flourish in Orange County. Listen during the Ron Stutts Show every Thursday at 8:40 for a new "This is Tourism" live interview!
Podcast: Play in new window | Download