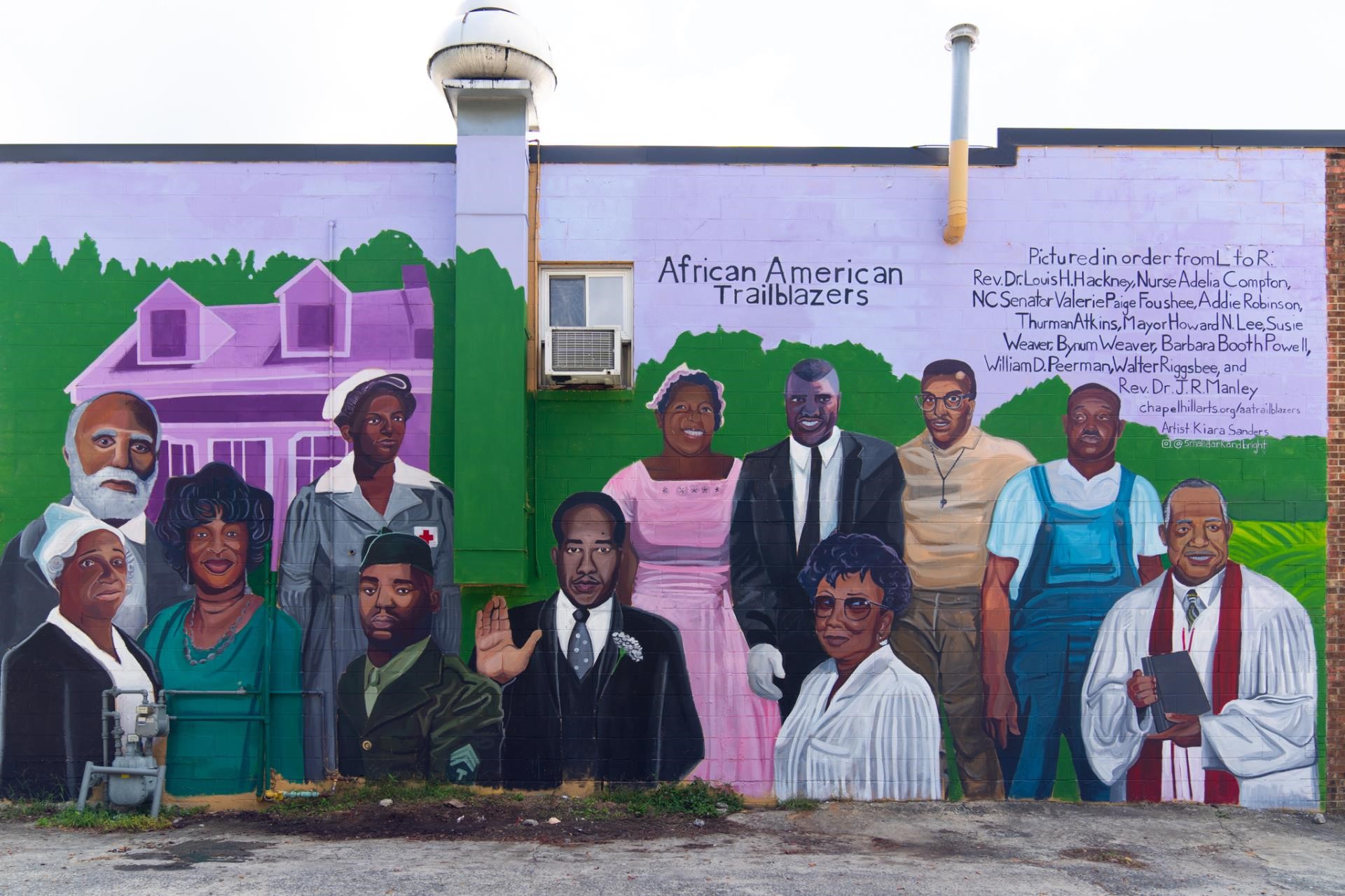 Chapel Hill and Carrboro community members are now greeted by a new mural near the towns' overlap, which honors and recognizes Black civic leaders from the two towns.
The mural, located at 111 South Merritt Mill Road along the Chapel Hill-Carrboro border, was completed by artist Kiara Sanders in late September. The piece, titled 'African-American Trailblazers,' adorns two Black-owned businesses: Walt's Grill and Ms. Molly's Gift Shop.
The mural features twelve Black pioneers from the community, including nurse Adelia Compton, the first Black employee for the Town of Chapel Hill; William D. Peerman, the first Black head football coach at Chapel Hill High School; and Howard Lee, the only Black mayor of Chapel Hill. A full list of mural honorees can be found here.
NEW MURAL by Kiara Sanders honors Black civic leaders from #Carrboro + #ChapelHill!

👉🏽 Visit at 111 S. Merritt Mill Rd

👉🏽 Hear from artist https://t.co/StFlwpQphz

👉🏽 The Story https://t.co/VPKw4ufKeT
 
🙏🏽 @CHCAA1979 @chapelhillgov @OCNCArts @DCHP_ChapelHill @NCArtsCouncil

— Carrboro, NC (@CarrboroTownGov) September 30, 2021
Sanders is an art studies graduate of North Carolina Central University in Durham. This year, she also completed an art project at a bus stop on Rogers Road in Carrboro. According to Sanders, one of her chief inspirations for the Trailblazers project was the work of Harlem Renaissance artist Aaron Douglas. She said her work on the mural took several weeks and is intended to both educate and inspire.
"It's an honor to be able to tap into this history," Sanders said. "You can come across this work and look at the faces and wonder to yourself, 'Who is that?' And then that can start a whole new conversation about how we introduce people who paved the way for us to live and thrive."
The Chapel Hill-Carrboro Area Alumnae Chapter of the Delta Sigma Theta sorority helped to conceive the project.
"This is how collaboration works," said Dianne Pledger, a member of the chapter. "When people come together with the same mindset to accomplish a common goal."
To hear more from Sanders about the mural and to watch a video on the project, visit the Town of Carrboro's YouTube channel.
Featured image via Town of Carrboro.
---
Chapelboro.com does not charge subscription fees. You can support local journalism and our mission to serve the community. Contribute today – every single dollar matters.