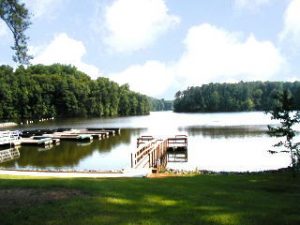 OWASA means more than just water and sewer services for Orange County. OWASA also means boating, fishing, picnicking, sunbathing and all kinds of lakeside recreation!
University Lake, found on the west side of Carrboro near Jones Ferry Road, has recreational hours from 6:30 a.m. to 6 p.m. Friday through Sunday — and the lake will be open for recreation through mid-November. Visitors can rent kayaks, canoes, and even flat-bottomed boats, and the lake is stocked with bass, crappie, catfish and a variety of Sunfish. A state-issued fishing license is necessary, except on July 4. The Cane Creek Reservoir, another OWASA recreation location, features bass fishing at the "trophy lake" level!
Listen below as Ron Stutts is joined by John Riley, Senior Lakes Warden at OWASA. Riley works to preserve natural habitats and protect the quality of community water supplies through University Lake and the Cane Creek Reservoir.
Podcast: Play in new window | Download