This week on "Wonderful Water," join Aaron Keck for a conversation with Denise Battle, customer service manager for OWASA, and Kristin Lavergne, community services director with the Inter-Faith Council for Social Service, about OWASA's Care to Share customer assistance program and Care to Share Day!
A significant portion of households in Chapel Hill and Carrboro — as many as 21 percent, according to some metrics — have incomes below $25,000. OWASA's Care to Share customer assistance program (administered by IFC) has been helping to support local families since 1997 and ensuring that local families who may be unable to pay their water bill are not left without access to water.
"[Care to Share] is usually for customers who had a circumstance where they're unable to pay their water bill or sewer bill," said Battle, "And it's set up to ensure that no one is ever without water when they need it."
The Care to Share program assists around 200 families annually, and community members are invited to donate to Care to Share through their monthly bill. Non-OWASA account holders can support the program with a one-time gift to Care to Share, and all funds raised go directly to supporting neighbors in need.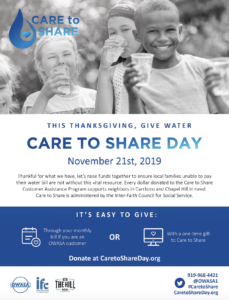 "Water is something that we all need," said Lavergne. "Our goal is really to help people to avoid those disconnects, because if you can imagine being without water is really a pretty hard thing to deal with. Sometimes people have situations where they miss a bill payment, and that will have implications beyond that month and it can really tip the scale towards instability."
With average water usage for a family of four running around 4,000 gallons per month, the average bill is about a $75 monthly expense, according to Battle. For families face economic hardship, that $75 — and the potential interruption of water service — can make all the difference in the world.
"For example, we had a retired couple that missed their payments. They had healthcare needs that they had to take care of and we provided utility assistance, including Care to Share," said Lavergne. "Now she actually volunteers with us, and she wants everybody to know that Care to Share is there to help them, and to not be afraid to ask for help."
Last year, Care to Share raised approximately $10,000. IFC received requests for utility support exceeding $13,000. This year's goal is to raise $15,000 and use that money to provide vital assistance to more families than ever before. You can sign up to donate here, on OWASA's website.
You can listen below for the full conversation between Aaron Keck, Denise Battle and Kristin Lavergne below, and visit the Wonderful Water page here for more interviews with — and stories from — the people who keep our community growing by keeping the water flowing.
---

Chapel Hill and Carrboro residents use roughly 7 million gallons of water a day, and "Wonderful Water" is a monthly conversation sponsored by the Orange Water and Sewer Authority highlighting its work to keep our community growing and water flowing.
Podcast: Play in new window | Download