This week on "Wonderful Water," join WCHL's Aaron Keck in a conversation about water quality with Katie Harrold — a water treatment plant lab supervisor with OWASA — and Emily Rajappan, a high school sophomore and graduate of OWASA's Youth Water Academy.
OWASA went through a comprehensive battery of tests in 2018 for all steps of the process that gets water from sources to homes across Orange County, and the report card encapsulates the results of those examinations and the work being done by everyone from distribution collection teams to plant operators.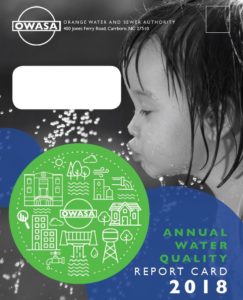 The report card is a snapshot of the current state of OWASA's water quality, and a useful tool for OWASA customers to get a closer look at where their water comes from, what makes it safe to drink, and how it gets in and out of their home.
As for the Youth Water Academy, seven students from high schools in Carrboro and Chapel Hill participated in lessons and activities to educate themselves on the process of protecting, sourcing, treating and delivering water to a community. Through tours of treatment centers, lessons on regulation and finance, hands-on experience with engineer and distribution and more, Rajappan and six other students earned the title "OWASA Water Ambassador."
---

Chapel Hill and Carrboro residents use roughly 7 million gallons of water a day, and "Wonderful Water" is a monthly conversation sponsored by the Orange Water and Sewer Authority highlighting its work to keep our community growing and water flowing.
Podcast: Play in new window | Download