Best Brewery Ever Right Now: Burial Brewing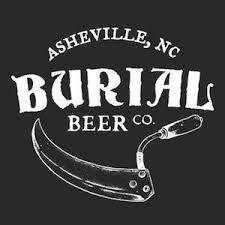 Seriously – these folks know their stuff. Everything I've had from them has been top-notch and I truly don't think I can sing their praises too much. That said, in the spirit of journalistic integrity, my only attempt to balance this glowing recommendation will be to mention that I often get a "too cool for school" vibe from the employees at the Asheville taproom. I've found myself thinking, "Man, don't give me a hard time. I just want to give you money and you give me a beer. Is that OK?" Aside from that, Burial is fantabulous.
Let's also be upfront about why so many people like this brewery: it's their artwork. Not solely their artwork – obviously the beer is excellent – but it's the pretty pictures that get you in the door, as it were. Great artwork gets you to buy cans, and there ya go. You can make the best beer in the world, and if no one tries it, no one knows! Burial has done a great job in using their artwork to get their beer out there, and their brews certainly back up the visual sales pitch.
So, let's talk about the beer:
Wait, before we talk about the beer, a few warnings:
First, many of their beer names are actually paragraphs. Don't get lost in that. Look past it, drink the beer, and you'll be happy. Second, never, ever, ever read the descriptions of the beers on their websites. Ever. Seriously. This is like wetting a Mogwai. If you do it, you will 100% regret it. It's far too easy to get lost in Burial's winding garden or words. Just stay away. Focus on the beer.
Hawkbill IPA: Pilsner malt gives this a clean palate to start with, accented with creamy oats, a touch of rye, and super-citrusy hops like Mosaic, Galaxy, Simcoe, and El Dorado — this is their year-round staple IPA. I'm elated when I find this on tap anywhere.
A Place of Perpetual Ruin DIPA: This is a one off that may be hard to come by, but I was lucky enough to get one a few weeks back. As Uncle Jessie used to say, "Wheeewww, doggie!" This DIPA is what you'd expect from artists like these: massive hop flavor, focusing on the Pacific Rim grapefruit-y varietals, with plenty of malt to give just enough balance. All that, and it's a double, so you're totally stoked about it by the end. If you can find it, get it.
Metallic Vessels Black Lager with Coffee: It just so happens that this was the first Burial beer I tried on my first visit to their taproom, and I was quite happy about it. The Schwarzbier isn't an easy thing to make; it's a black lager that characteristically has zero roasty malt flavors. Of course, these knuckleheads cover up their amazing work by chunking coffee into it, imparting an alluring coffee aroma and roasty flavor. The total package is a perfect beer for a cool afternoon on a deck watching drunk hippies and beer nerds stumbling around. This happens to be what I do on the reg, so, lucky me?
Ulfberht Baltic Porter: Ermagerd! Beer AND ancient sword lore in one! Those are BOTH my faves! For the uninitiated, there are several Viking-era swords found with the name "Ulfberht" engraved into the blades. These were the Rolls Royces of the murdering/pillaging class in that time period, made with exquisite craftsmanship, that were treasured above the treasure they were taking by use of them. This is a perfect name for a perfectly crafted beer. Chocolate is the star here, but it's married with German and British malts that combine to create a dream of malt-forward brewing. This can be found in stores and should be purchased in quantity.
I could go on and on. These folks put out like 20 IPAs, so it's hard to stop. But I shall, because my editor says I must. To the point, seek out any beers you can get from Burial Brewing, visit them in their taproom in Asheville or their "exhibit" in Raleigh — and count yourself lucky. Just ignore the hipstertude if you get hit by it, and don't forget to stop and smell the hops.
Cheers!